If you're considering starting a welding career, don't hesitate! Welding has many benefits, and it can be a rewarding career. You'll be able to earn decent wages because there are so many construction projects and infrastructure projects that need welding services.
However, there are occupational health and safety risks in this career. Therefore, it's paramount to have appropriate training, safety equipment, procedures, and strict adherence to Occupational Health and Safety guidelines.
If a career in this industry interests you, I will give you 13 things you can expect from this field!
Is Welding a Good Career?
Welding can be an excellent career for anyone willing to brave the hot flame, dirt, and grime. Welding is a stable job with good pay and steady demand. A high school diploma or certification and apprenticeship training are necessary for this job. However, one must have talent and a passion for metalwork to succeed in this industry! Lastly, you must strictly follow the health and safety guidelines.
If you're interested in a welding career but aren't sure what you may get into, keep reading to know more!
1. Fabrication Process
Welding is a fabrication process to create a connection between two or more elements using force, heat, or even both.
A welder joins metal elements to form a final piece that fulfills a customer's requirement. Welders need physical strength and expertise to handle hazardous and heavy welding equipment.
Overall, welders can work in various areas, including construction, steel, aviation, and automotive, depending on their level of competence.
2. Requirements
Welding is a good career choice if you like hands-on and physical work. Additionally, a profession in welding can be fulfilling if you can deal with challenging situations, long hours, and smoke and heat.
Welders have a stable demand due to the growing market, making them one of the more stable careers available.
Although welding may not be suitable for everybody, it can be a profitable and rewarding job.
However, because welding is a physically demanding activity, you need to be in good physical shape and able to stoop, bend, or stretch while working!
Anyone looking for a career with job security and many possibilities should consider welding. You will learn how to use high-tech equipment and work on any part of a vast array of products in nearly any industry.
3. Salary and Job Outlook
With an average yearly entry-level salary of over $43,910, welding is one of the top-earning technical jobs in the world.
Many fresh apprentices and welders earn between $16 and $20 per hour. Meanwhile, the highest-paid welder reaches six figures. Apprentices earn an average of $20,000 per year. 
On the other hand, the aviation industry pays higher compensation for welders such as cutters, solderers, and brazers. In general, they earn over $66,250.
However, the top-paying industries pay $87,000 to $92,130 annually and include
electric power generation and distribution
natural gas distribution
pipeline transportation of crude oil
According to the Office of Labor Statistics, the employment outlook for welders is promising in the following years.
Over 476,000 new welders will gain employment this decade. 
There are many jobs in manufacturing, repair and maintenance, and construction.
4. Reliable Work
Professional welders perceive welding as more than simply attaching two pieces of metal. Instead, it is a union that serves as a connection and an artistic creation equally.
Seeing pieces of metal evolve into something you can grasp, a thing you might use, or a structure you can present to someone and say, "I helped construct that," is a satisfying experience for these professionals.
These craftspeople exhibit
intelligence,
creativity, and
ambition.
They are strongly committed to the development of their trade. They are innovators and blue-collar workers!
5. High School Diploma and Certifications
A welding certification, an associate's degree in welding, or a bachelor's degree in welding engineering are all possible scenarios for welding education programs.
Additionally, the duration of traditional education programs might vary from a few weeks to a few years.
A high school diploma or equivalent may be the minimum education needed for a welder.
However, most acquire their craft in technical or city college programs, and companies prefer those with certification.
Overall, employers value practical experience, which you can acquire through apprenticeships.
6. Skills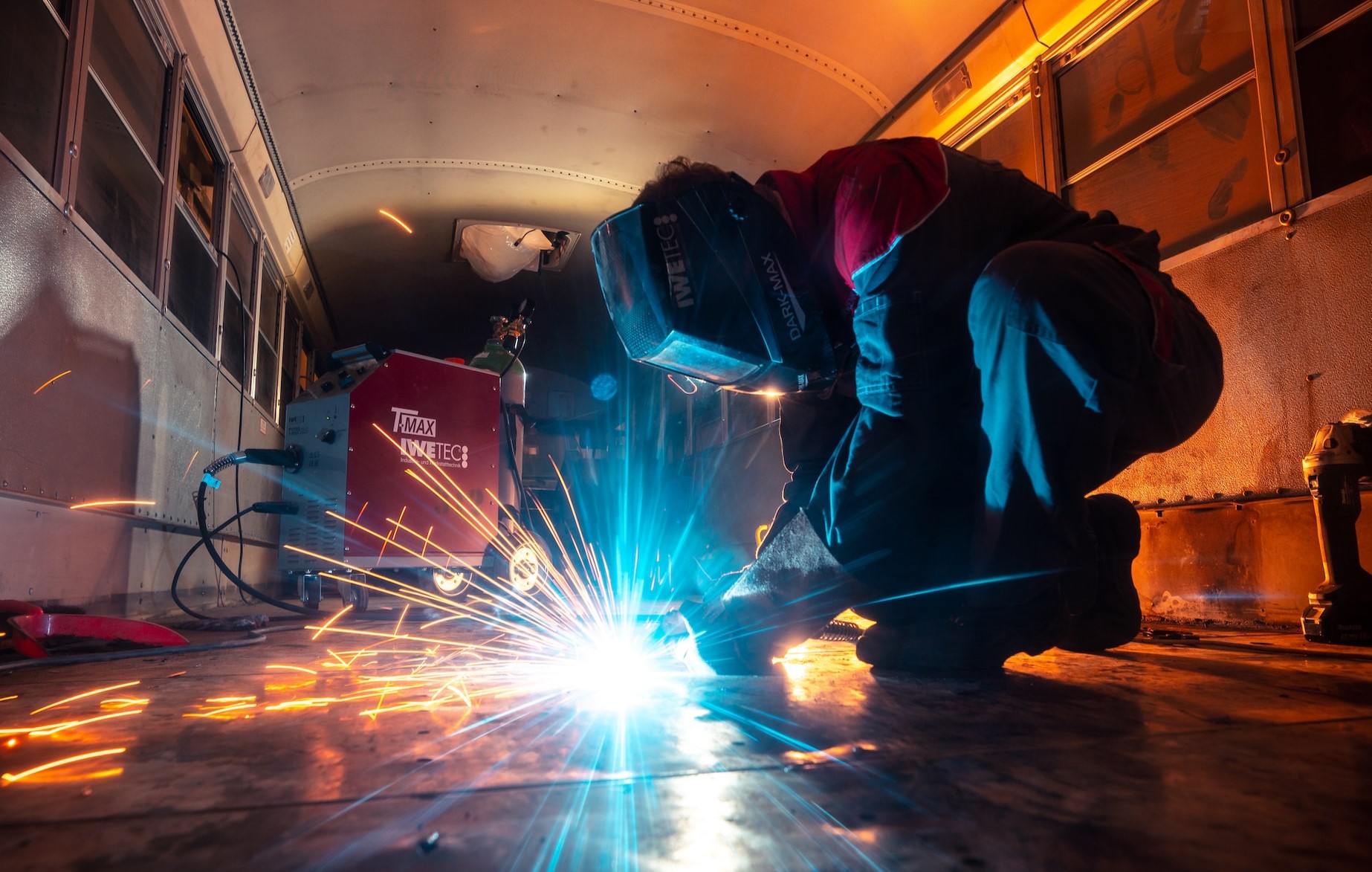 To succeed in this career, one must acquire specific skills and abilities. Some of these are:
Mathematical Skills
Physical Capabilities
Attention to Detail
Technological and Tool-Handling Skills
Administrative Skills
Accuracy and attention to detail are paramount to keeping yourself safe and ensuring that the material you are welding is solid and error-free.
Above all, welders need to be skilled technically, but they must also be effective communicators. One can achieve all this and much more with a strong work ethic!
7. Tight Schedule and Apprenticeship
Once the educational requirements are all completed, you can start searching for apprenticeships in welding.
Among the options are:
Generally, welding apprenticeships include three to four years of on-the-job instruction and a minimum of 144 hours of classroom training.
Expect to perform a lot of legwork in the first year, such as transporting tools, polishing welds, and hauling lines.
Lastly, you should be on the level with the typical journeyman by the time your apprenticeship is over.
8. Work Environment and Overtime
Welders and related machine operators spend 40 hours weekly for 8 hours a day, five days a week.
There are peak moments in construction that will require mandatory overtime, as in many other industries.
Generally speaking, the majority of welders have a good work-life balance. At the same time, welders may need to work on weekends.
A welder will work underground, in a factory, and outdoors, all of which will have adequate ventilation.
Additionally, welders operate in shipbuilding, petrochemical, manufacturing, aerospace, and infrastructure sectors.
Indeed, a welder's workplace environment and routine may change depending on their specialization.
During their careers, welders should expect to work various schedules, including weekends and night shifts. However, they receive compensation for the odd hours and schedules.
They might carry out their responsibilities on scaffolding, in cramped locations, or even during bad weather. Additionally, welders have significant deadlines to achieve.
9. Hazardous Work Conditions and Risk of Injury
Welders must be mindful of hazardous conditions such as
tripping hazard, and
fire hazard
When working on a building project, you often have to work at night or outside because it's impossible to construct a building indoors.
Without appropriate safety precautions, there is a potential for prolonged eye damage due to sparks and gases.
Additionally, bad posture and fatigue may lead to accidents and workplace injuries. Therefore, it's critical to follow occupational health and safety guidelines strictly.
10. Protective Gear
To protect themselves from a hazardous working environment, one must adhere to the requirements for a welder's attire:
coverall suit
safety footwear
helmet
eyewear
11. High Demand Overseas
There is strong demand for welders internationally, and the manufacturing industry will continue to play a role or perhaps expand in size, particularly in Europe.
Australia, Canada, United Arab Emirates (UAE), and South Korea are among the countries that require welders.
As you can see, the infrastructures, capital equipment, and commodities that sustain a relatively high standard of living for millions worldwide are made primarily possible by welding!
To learn more, you can also see our posts on Plumbing, Electrician, Locksmith, Carpentry, and Pipefitter.
Conclusion
As we learned, the welding industry is booming. With the tight job market, individuals consider welding a good career choice. In addition, welding jobs are available throughout America and the world.
While most welders work in industrial settings, there are also opportunities to work on projects such as construction, aviation, electrical grids, or repairing automobiles.