Pipefitting is a notable career that involves maintaining and repairing piping systems. In addition, pipefitters install pipes and fittings such as valves and couplings in construction or plant installation.
Once you pursue this career, you will be responsible for several processes involved in pipework, such as 
Complying with proper safety measures, 
Setting up different welding and cutting pipes and 
Carrying out routine maintenance.
So, let's begin to discuss the work and what to expect from a career as a pipefitter!
Is Pipefitting a Good Career? 
Pipefitting is a promising career because it gets you started on a path to opportunities in the construction and manufacturing industries. As an apprentice pipefitter, you can expect to receive an industry-recognized credential and a robust benefits package that includes paid time off, health insurance, and pension benefits for life. Moreover, you can make good money as a pipefitter, and the job outlook is excellent. 
Still, you'll need to be physically fit to work in this industry. Additionally, looking for a career that may not require you to change jobs? Then pipefitting could be a good choice for you. Let's get started!
1. Working with Pipes And Tubes
Pipe installation or repair is referred to as pipefitting.
There are many situations when pipes and tubes are required. It necessitates using pipefitting in various sectors, including waste management, agriculture, and manufacturing.
Additionally, materials are one primary variable influencing the pipefitter's selection of pipe or tubing.
Generally, the pipefitter is frequently left to use his knowledge to choose the best way to connect or fit the pipe or tubing together.
2. Pipefitting is an Excellent Career Option
Pipefitting is a fantastic career choice for anyone interested in a consistent career that is both personally and financially enriching.
However, there are moments when pipefitters may work under extreme strain, mainly when crises like gas and oil leaks occur. 
Additionally, they could encounter erratic job schedules that require them to work day and night.
However, reviews and research indicate pipefitters are typically satisfied with their employment.
3. Mid-Range Wages for Pipefitters
A pipefitter's annual income might exceed $64,500, or little more than $26.50 an hour. A pipefitter can expect to receive a higher wage with more experience. 
On the other hand, while you are learning to become one, you can start making money as an apprentice. For example, a pipefitting apprentice receives an average salary of $34,850.
It would also be simple for a pipefitter to obtain employment in industrial settings, particularly at a power plant, construction site, or office building.
According to BLS, pipefitters should have steady job growth and a yearly rise in employment opportunities.
4. Industry Operations
Successful pipefitters are adept at math, can read schematics, and comprehend how industrial tools work. In addition, one must be familiar with and enthusiastic regarding tool usage.
Because pipefitters are typically realistic people, they frequently enjoy working outside or putting their hands to work on a practical project.
They also tend to be traditional and enjoy working in structured environments. Additionally, it would help to be organized and detail-oriented.
A pipefitter collaborates with other tradespeople, like a plumber, to ensure the functionality of pipe system installations.
5. Training and Certifications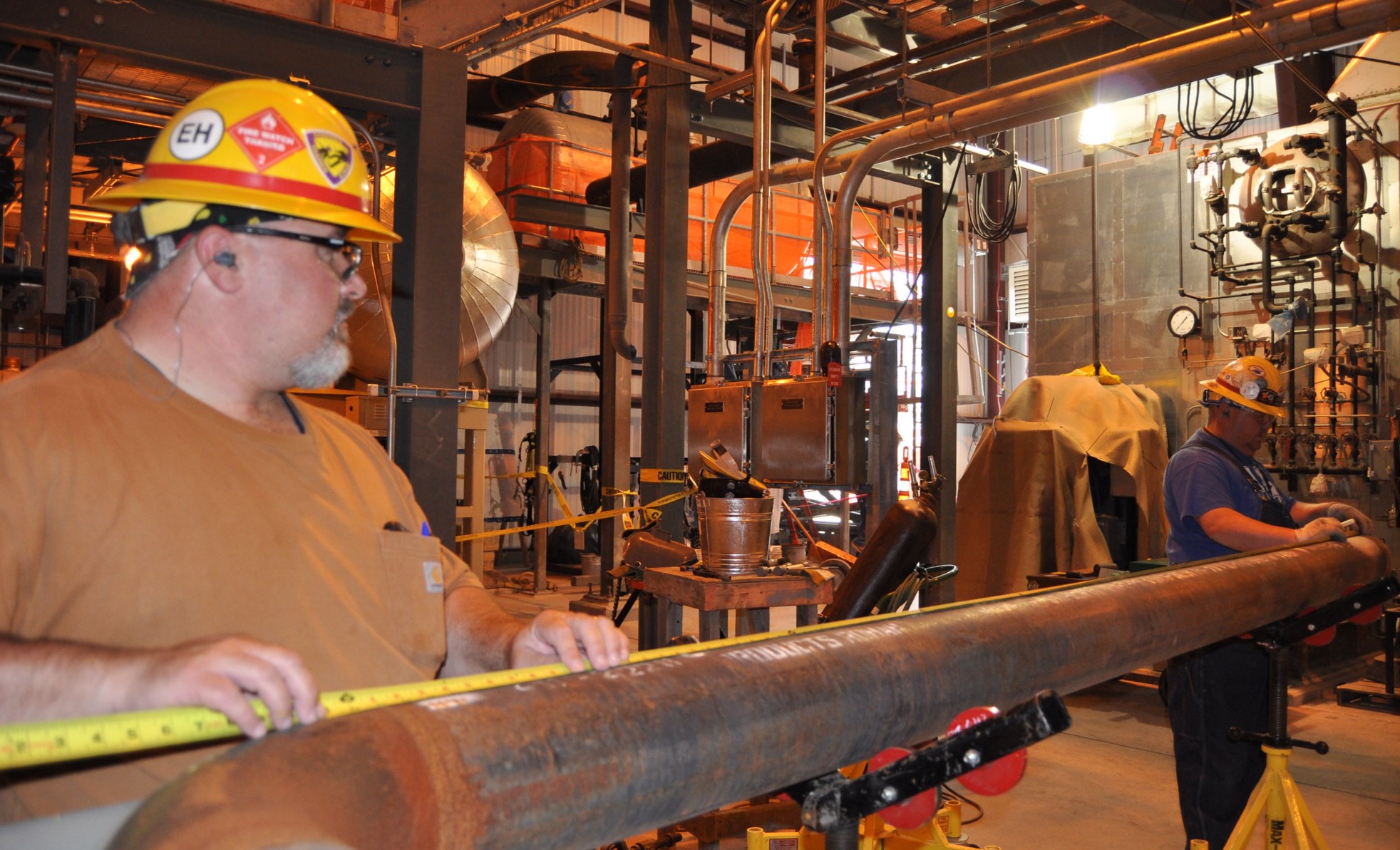 For most pipefitters, high school graduation or its equivalent is necessary. However, some people might enroll in a vocational-technical school before beginning their on-the-job training.
Additionally, to practice as a pipefitter, you often need a license. A licensed pipefitter could also work as a Journeyman.
There are also training courses for postsecondary education. Technical institutions or community colleges provide training programs with one-year completions. 
lastly, there are additional requirements such as,
6. Overseeing and Managing Projects
These specialists carry out a variety of crucial tasks when working on a project, including following safety protocols, installing intricate pipe systems, and testing and inspecting pipelines.
They must also be able to shape, cut, and connect pipes using various tools. These tools include a level, pipe bender, power tool, pressure gauge, saw, and welding torch.
As pipefitters, they should also be aware of managing materials with systems involving heating, cooling, hot water, steam, hydraulics, and ventilation.
7. Pipefitter Apprenticeship Programs 
A typical apprenticeship program lasts three to five years. It includes a minimum of 1500 hours of on-the-job training and eight weeks of technical classroom instruction.
As an apprentice, you get paid per hour while working on the job site and learn while you do it.
During your apprenticeship, your pay will rise until it reaches the full rate, which is often between 45 and 50 percent of the hourly rate of a licensed tradesman.
Trainees will learn the following,
using tools 
piping systems, 
heating and cooling systems, 
soldering, and 
The knowledge is structured; typically, an apprentice will build on additional skills each year during their apprenticeship.  
8. Career Options and Owning a Business
According to Labor Statistics (BLS), between 2022 and 2030, the employment of pipefitters will increase by 16%.
On the other hand, there are fascinating career routes in construction related to pipefitting that you might take if you're thinking about going into that profession.
These include Project Managers, Gas Service Technicians, Pipefitters, Steamfitters, Plumbing Technicians, and Licensed Plumber.
Moreover, many experienced pipefitters eventually start their business. As a business owner, you must attend additional training classes. 
9. Work Schedule and Response to Emergencies
Working up to 12 hours straight in this field is typical for pipefitters. In the evenings and on weekends, they can get calls for emergency services.
There is also a chance that pipefitters will have to operate outside in chilly conditions. This is because they frequently stand for an extended time while working in confined spaces.
However, a significant portion of pipefitters indicates delight in their jobs, which may contribute to the general satisfaction of the industry.
To learn more, you can also see our posts on Plumber vs. Pipefitter, Welding, Carpentry, Locksmith, and Electrician.
Conclusion
Pipefitting is an in-demand trade, especially across construction, home, business, industrial sites, and oil and gas fields. So as construction and manufacturing increase, there will be more opportunities for a wide range of projects.
Ultimately, pipefitting is a solid career path, especially for those who love to work with their hands and enjoy working on complex machinery. But, at the same time, if your dream job allows you to be your boss and make your hours, pipefitting could be a good choice!