Minnesota is full of lakes, forests, and breathtaking scenery. Living in this state is like living in a dream because of the stunning views it offers to its residents.
Additionally, there are also tons of fun activities that one can enjoy. The state capital has modern malls, high-rise hotels, and scenic driveways, making the city attractive to tourists. Let's see what sets Minnesota apart from other states, shall we?
Is Minnesota A Good Place To Live? 
Minnesota is a great place to live because it has an incredible community, affordable living costs, outstanding education, and a thriving agricultural industry. In addition, the state has beautiful landscapes and unique geography that includes rolling plains, lakes, hillsides, and rivers. It is full of outdoor activities and gorgeous surroundings, so there is always something to do.
If you're interested in relocating here, let's see if Minnesota is worth your time, so keep reading!
1. About the History of Minnesota (MN)
The Ojibwa, Dakota, and some other Native American tribes coexisted in Minnesota for thousands of years until the middle of the 19th century. 
Once the Europeans arrived, they moved the hunter-gatherer people, and the economy shifted to trading fur. Over time, many immigrants settled in, and farming and lumbering became the primary occupation. 
Around the end of the 19th century, iron ore mining and other industries, such as railroad and paper mills, were multiplying. These factors led to fast urbanization in the Twin Cities of Minneapolis and Saint Paul.
Minnesotans were known for being economically liberal but culturally conservative. Since the 1970s, the population demographic started to diversify from the European only descendants to include increasing numbers of African American, Hispanic, and South East Asian immigrants. 
2. Minnesota the Location – Rolling Plains, Hillsides, Lakes and Rivers
The state is known as the "Land of 10,000 Lakes, " formed thousands of years ago from glaciers. The state prides itself on its 11,842 freshwater lakes surrounded by forests!
Minnesota offers numerous locations for people that love nature and water. 
It shares its northern borders with the Canadian provinces of Manitoba and Ontario. North and South Dakota to the west, Iowa to the south, Wisconsin to the east, and Lake Superior to the northeast.
Numerous freshwater lakes, rivers, hillsides, grasslands, and agricultural lands are among the significant landforms found in the state.
Minnesota has an estimated 10.6 million acres of wetlands, the most of any state outside of Alaska! 
The wetlands provide critical wildlife habitat, natural water filtration, and flood protection by slowing down the water and protecting it from soil erosion. 
Per Person Annual Cost of Living in Minnesota
| | | | | | |
| --- | --- | --- | --- | --- | --- |
| Housing & Utilities Cost | HealthCare Cost | Groceries and Drinks Cost | Gasoline Cost | Miscellaneous Costs | Total Cost of Living |
| $8,309 | $8,024 | $3,145 | $889 | $24,037 | $44,403 |
Data Sourced from Bureau of Economic Analysis (2020)
3. The People in Minnesota
Minnesota is the 12th largest state by surface area and 21st most populous state, with a current population of over five and a half million estimated residents.
Additionally, it has three major cities, Minneapolis, Saint Paul, and Rochester. At the same time, Hennepin and Ramsey's counties have the highest population densities.
Minnesotans believe they are slightly more educated and liberal than the rest of the country. On top of that, people are friendly and more open to diversity. However, they are not so open to strangers, but with time they warm up. 
At community events, especially church activities, potlucks are common and typically feature a range of hot dishes.
4. Minnesota has Continental Climate
Although residents enjoy the four seasons of winter, spring, summer, and fall, Minnesota's climate is characteristic of a continental one, with cold icy winters and hot, muggy summers.
Fall also brings about a continuous drop in temperature and the shifting of the leaves. Typically, Minnesota's winter lasts from November to March.
Generally, it is a benefit that Minnesota is an inland state that protects residents from hurricanes and tidal waves!
5. Cost of Living in Minnesota
Living in Minnesota is slightly cheaper compared to the national average living costs. 
The median house price in Minnesota is around $350,000 and fluctuates according to market sentiment. The average monthly rent in the state will cost just about $1000. However, the rent in metro areas is significantly higher, ranging between $1400 and $4000. 
Students and single employees may be able to rent a room for around $500 to $1000 per month. 
The cost of utilities, transportation, health, and groceries are also lower than the national average. We will look at each of them later in the article. 
6. Shopping in Minnesota
Located in Bloomington, Minnesota, the Mall of America is the largest shopping center in the United States, with annual foot traffic of 40 million. 
However, if you're searching for a premium shopping experience, check out The Galleria in Edina, The Dales, The Riverdale Trifecta, and casual Outlet Malls.
The cost of buying food is slightly lower than the national average. You could expect to pay between $750 to $850 a month for an average-sized family.  
For singles, groceries cost around $350 to $450 per month. 
Annual Salary and Hourly Wages in Maryland
| | | | | | |
| --- | --- | --- | --- | --- | --- |
| Average Salary  | Median Salary | Average Hourly Wage | Median Hourly Wage | Hourly 90th percentile wage | Hourly 10th percentile wage |
| $60,480 | $47,590 | $29.08 | $22.88 | $49.03 | $13.53 |
Data Sourced from U.S. Bureau of Labor Statistics (2021)
7. Recreational Activities in Minnesota 
Valleyfair is the Twin Cities' amusement park where families go to have fun the Minnesota way, with more than 75 rides and attractions.
With eight exhilarating roller coasters, Planet Snoopy, and Soak City Waterpark, Valleyfair is currently the biggest amusement park in the upper Midwest that kids may enjoy!
The state also has several choices for cinema and theatre. These movie theaters include AMC Inver Grove 16, Grandview 1 & 2, Highland 1 & 2, CMX Cinemas, and Riverview Theater!
If you love the outdoors and enjoy camping, fishing, hiking, or biking, the state offers many parks you can visit. Some of the best parks include 
Maplewood State Park in Central Minnesota provides incredible landscapes and fishing opportunities
Inter-State Park is an hour's drive from Minneapolis and Saint Pauk
Jay Cooke State Park in North East Minnesota has a thriving wildlife 
Blue Mounds State Park in South West Minnesota is great for hiking, camping, and swimming. 
Voyageurs National Park in Northern Minnesota is great for fishing and canoeing.
Overall, the state has multiple options for adventure or relaxation. 
8. Transportation in Minnesota
Several forms of public transportation are available in the Twin Cities metro area.
Buses travel on the major roads of Minnesota, and you'll discover that the St. Paul-Minneapolis rapid transit bus system is quite dependable.
The light rail metro system in the Twin Cities is another transportation option if you wish to avoid the congested traffic of the district. Six lines cover the urban area, and the fare is affordable. 
Furthermore, Minnesota has the most bike trails in any state, making it much simpler for bikers and environmentally conscious individuals to pedal to work each morning!
9. Places to Live in Minnesota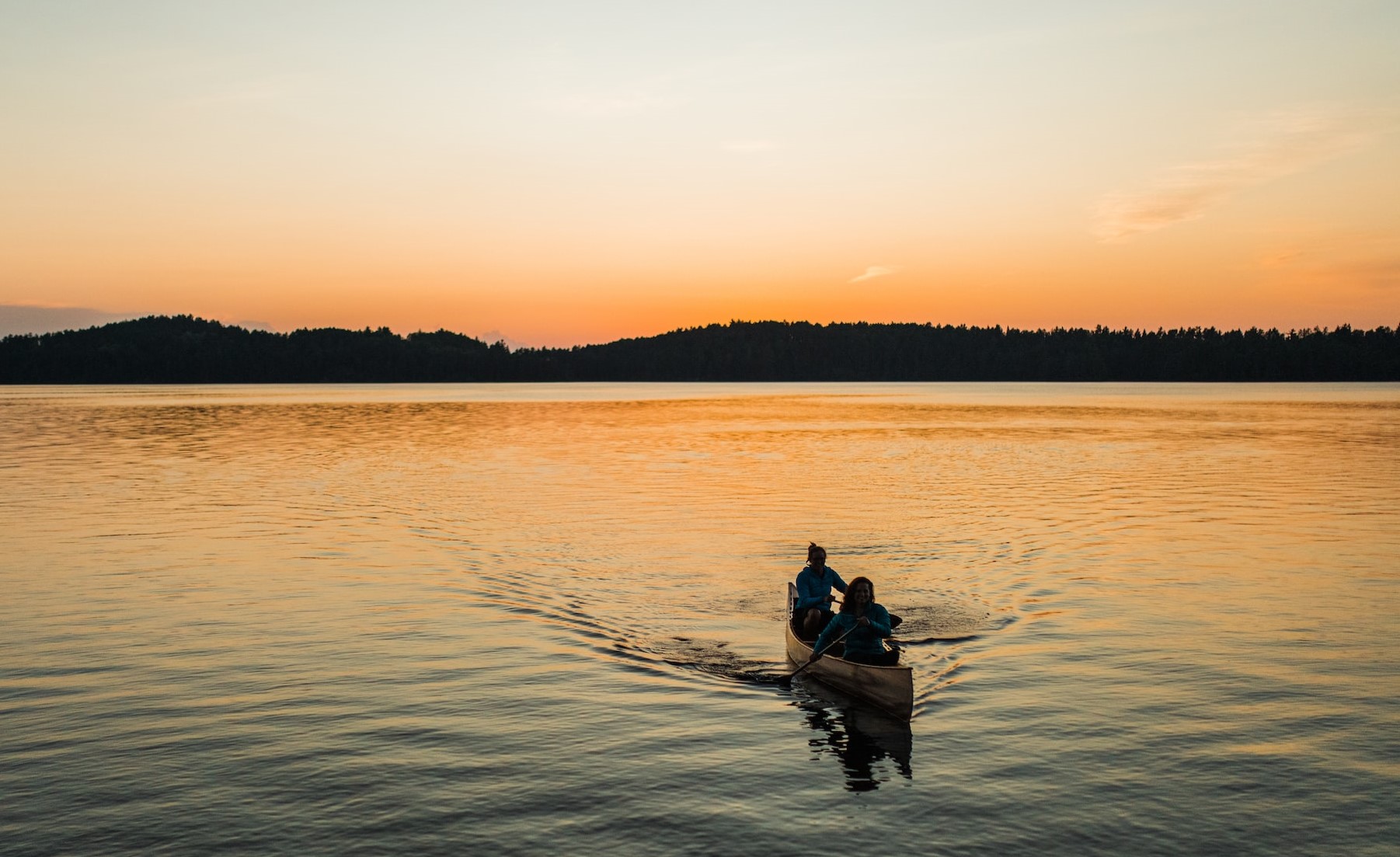 This northern star state is impressive and affordable. The residents enjoy riding their bikes and walking on the trails, as well as numerous exhibitions and music festivals. In addition, cross-country skiers fill the tracks with activity during winter. There's something for everyone! 
Some fantastic places to live in Minnesota include,
Eden Prairie, Minnesota, is a great place to live. You'll enjoy the quiet comfort of this family-friendly community without sacrificing city amenities like restaurants and shopping.
It is just 15 minutes from downtown Minneapolis and close to the Mall of America.
Eden Prairie has an excellent public school system, high performing students, and is considered one of the best places in Minnesota for outdoor activities.
Minneapolis is the capital and most populous city in Minnesota. It's an excellent choice for students, young workers, and families.
It offers great concerts, sporting events, and restaurants and has a reputation for friendliness and high community engagement.
In Downtown Minneapolis, there are stadiums and arenas where sports fans can attend games, including the Minnesota Twins, Minnesota Vikings, or Minnesota Timberwolves.
Duluth, Minnesota, is the fastest-growing city in the Midwest. Its appeal goes beyond its scenic beauty and world-class recreational amenities.
It has a beautiful waterfront and views of Lake Superior, and the city has a lot of character.
If that isn't enough, Duluth also has its own Spirit Mountain winter ski area and a 35-mile hiking trail overlooking the city, the Skyline Trail.
10. Education in Minnesota
Minnesota ranks highly among American states for education and academic quality. Minnesota's best schools and universities, including several renowned liberal arts colleges, are located in Minneapolis and St. Paul.
Regarding higher education, with 54 sites spread around the state, Minnesota has 26 colleges and seven universities. It offers over 3000 academic programs.
University of Minnesota Twin Cities is the highest ranking and the largest University in the state. Along with it, there are many other institutions spread over the state, such as,
Walden University, Minneapolis
Capella University, Minneapolis
Century College, White Bear Lake
Lake Superior College, Duluth
College of St. Scholastica, Duluth
Hamline University, Saint Paul
St. Catherine University, Saint Paul, Minneapolis
University of St. Thomas, Saint Paul, Minneapolis
Hennepin Technical College, Eden Prairie
Anoka-Ramsey Community College, Cambridge
Normandale Community College, Bloomington
Minnesota State University, Mankato
11. The Economy of Minnesota
In Minnesota, it's simple to find work in large cities. However, it's essential to take advantage of the fact that this state is home to 17 Fortune 500 corporations.
The state's largest employers include agriculture, retail, financial healthcare, food, tourism, education, and manufacturing. 
When it comes to yearly farm income, Minnesota is a top state. It generates around 4% of the nation's total agricultural income, placing it fifth among the states.
Above all, the labor force can make more money because it provides one of the most unprecedented rates in the Midwest!
12. Scenic Drives and Weekend Getaways in Minnesota
Minnesota has a lot to offer regarding amazing natural and artificial sights, whether it's a state park, one of our numerous lakes, or a road trip with a breathtaking view.
Alternatively, you can get behind the wheel and stop over the North Shore Scenic Drive to see Lake Superior's shoreline in all its splendor!
Let's check some of the top weekend getaways in Minnesota. 
Tofte is a year-round holiday destination. There are unique places to stay, including hotels, resorts, townhouses, and campsites.
You can get the most stunning view of Lake Superior and many activities such as skiing, fishing, hiking, canoeing, kayaking, or biking.
Need a relaxing break? You could chill in the spas, grab a pizza, sit by the fireplace, or have a drink by the heated pools.
Ely sits next to the Boundary Waters and is probably the best place for dog sledding.
You can enjoy the tranquil wilderness, go dog sledding, hiking, mountain biking, or canoeing in Boundary waters. 
13. Airports and Interstate Railway in Minnesota
Eight airports in Minnesota provide commercial aircraft service. The busiest airport, Minneapolis-St. Paul International Airport (MSP) is the focal point of most aviation traffic.
MSP Airport has four runways and two terminals 10 miles south of Minneapolis's city center.
Amtrak's Empire Builder, which runs between Chicago and points west, is the only intercity passenger rail service operating in Minnesota.
Suppose you're considering a trip between Minnesota and Illinois. In that case, the intercity passenger rail service between Milwaukee and Chicago can be a good choice!
14. Healthcare and Economic Outlook
Minnesota leads the nation in terms of healthcare. Mayo Clinic and the University of Minnesota continue to provide groundbreaking research and services. The average health insurance costs around $400 in the state and may change in the future. 
The state's economy is robust with higher income, consumer spending, and corporate profits. 
For the coming years, Minnesota will continue to maintain control over the rate of spending growth, enabling it to increase reserves and cash and keep the budget for upcoming downturns!
15. Scandinavian-American Cuisine
Immigrants from Northern Europe, namely Sweden and Norway, have considerably impacted Minnesotan food culture.
Minnesotans probably love Swedish meatballs or köttbullar more than lutefisk and lefse.
Meanwhile, the Upper Midwest residents love their Tater tot , considered Minnesota's most famous dish and the epitome of comfort food.
It also makes sense that wild rice has become a mainstay of this state's cuisine since it is one of Minnesota's native crops!
To learn more, you can also see our posts on Maryland, Massachusetts, Nevada, and Michigan.
Conclusion
Minnesota offers a well-rounded lifestyle for any individual or family. The schools are great, the economy is stable, and the agriculture industry is among the country's best.
Overall, the state creates employment for its residents, healthcare and the cost of living is reasonable.