Michigan is a good place to live when you look at the ranking, cost of living, and lifestyle. This state has a lot to offer to anyone willing to take the time to explore it. 
So whether you're from another state and looking for a place where you can afford all your lifestyle choices, let's discover whether it will be a good fit!
Is Michigan A Good Place To Live? 
Michigan is a great place to live because of its rich history, incredible lakes and beaches, relaxed lifestyle, affordable housing, and lower cost of living. Additionally, the state has high-ranking education institutes, fantastic transport, and interconnectivity. Moreover, the states economy is growing with many new jobs and business opportunities. 
Here are 15 things to expect when moving to the world's car capital!
1. History of Michigan Old Northwest Territory
Paleo Indians originally inhabited the area that is now Michigan. Thousands of years after, the French explorers were the first Europeans to settle in the region. 
However, it fell into the hands of the British. Eventually, they lost control of the territory in the American Revolutionary War. 
After the American Revolution, the Old Northwest Territory between the Great Lakes, the Mississippi River, and the Ohio River became part of the U.S.
With a combined area of more than 260,000 square miles, that territory formed the states of Ohio, Indiana, Illinois, Wisconsin, Michigan, and a portion of Minnesota. 
In the mid-1800s, mining boomed due to the discovery of iron and copper. Other industries that flourished around the same time included agriculture and logging. 
Towards the begging of the 20th century, the state witnessed the rise of modern manufacturing by automobile giants Ford and General Motors. Today that industry is in decline as Michigan continues to diversify its economy. 
2. The Geography of Michigan and the Upper and Lower Peninsulas
Michigan has stunning Great Lakes shorelines and two major yet almost separated landmasses. The Straits of Mackinac divides the Upper and Lower Peninsula.
Four out of the five Great Lakes separate Michigan from Canada. Lake Superior, Lake Huron, Lake Michigan, and Lake Erie wrap around Michigan. Generally, the shoreline of these lakes makes up around 60% of the state!
The state shares land borders with Ohio, Indiana, and Wisconsin. 
Per Person Annual Cost of Living in Michigan
| | | | | | |
| --- | --- | --- | --- | --- | --- |
| Housing & Utilities Cost | HealthCare Cost | Groceries & Drinks Cost | Gasoline Cost | Miscellaneous Costs | Total Cost of Living |
| $7,516 | $6,651 | $3,532 | $788 | $22,788 | $41,274 |
Data Sourced from Bureau of Economic Analysis (2020)
3. Michigan is the Tenth Most Populous State in the U.S.
Michigan is one of the biggest states in the U.S. in terms of population and land mass.
However, it's important to note that the state's population is declining due to the automobile industry's downfall as residents move out. Simultaneously, there's lower immigration. 
On the other hand, by 2030, estimates show that the population of Michigan will have grown by 7.6%!
Michigan residents refer to themselves as "Michiganders."
Michiganders have an accent with a softly nasal undertone, which might sound peculiar to outsiders. Michiganders also believe in genuine Midwest courtesy. 
4. Michigan has Continental Climate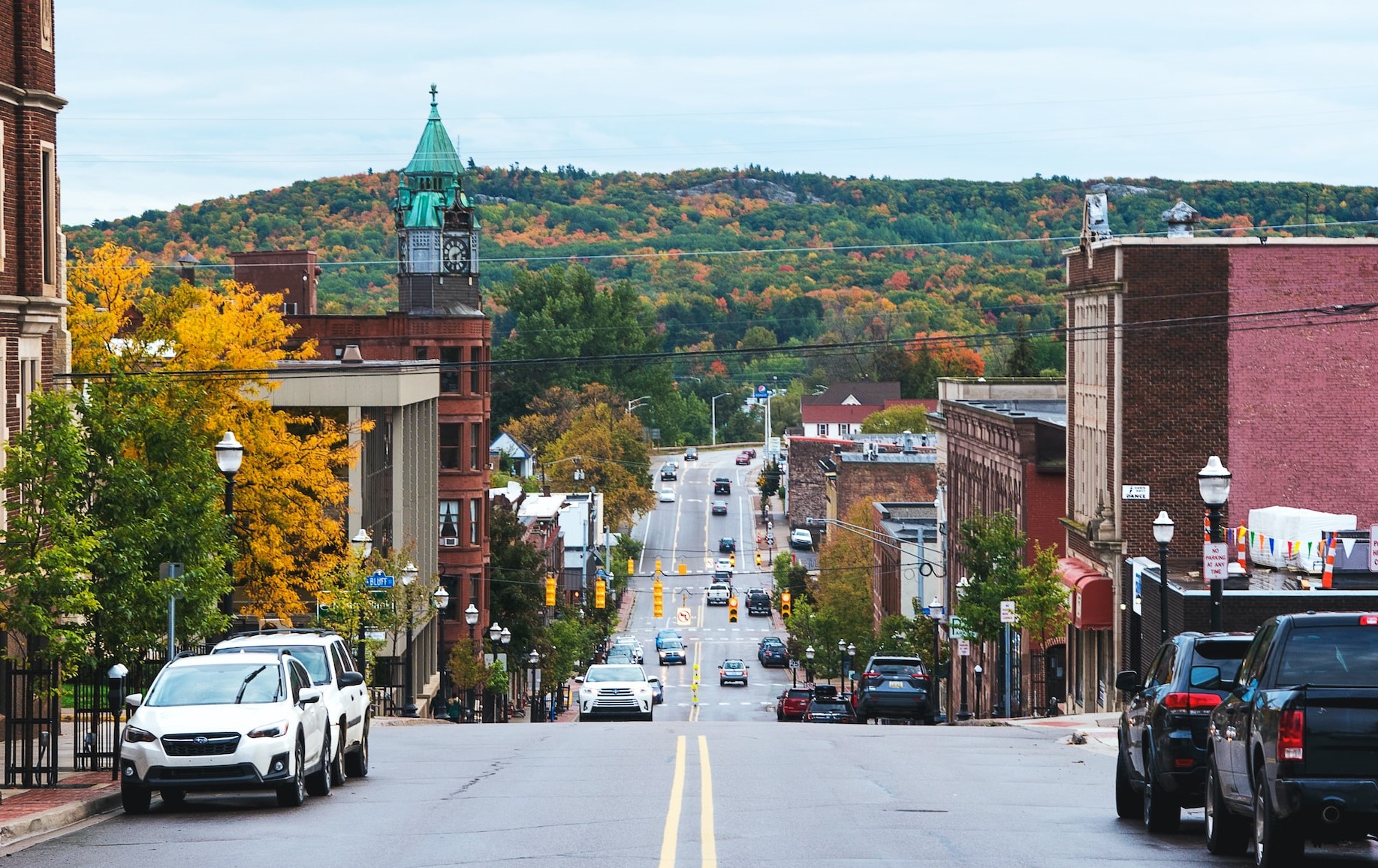 Michigan experiences a continental climate with warm, brief summers and harsh winters in its far northern region. Michigan is one of the coldest states in America.
The Southern Peninsula, particularly around Detroit, is warmer than the northern regions. And recently, there have been a growing number of heat waves affecting the residents. 
Michiganders learned how to survive subzero temperatures. Freezing conditions are just a fact of life! However, this region has frequent and abundant snowfall if you love the snow and cold climate!
Overall, Michigan is one of the fortunate states that undoubtedly experiences all four seasons. 
5. Places to Live in Michigan 
Cities in Michigan consistently rank in the top places to live in the United States. 
Detroit is the largest city in the state and a significant contributor to the nation's auto industry.
Detroit is famous for its music industry and thriving innovation hub. Moreover, it has excellent public transport, incredible food, and a low cost of living. 
Ann Arbor is a great place to call home on the southern border of Lake Michigan.
Known for its parks and recreation and as one of the top college towns, Ann Arbor is a vibrant community with much to offer.
Moreover, it has outstanding schools, a low crime rate, and a robust job market. 
Grand Rapids ranks consistently as one of the best places to live in the United States.
Grand Rapids has something to offer everyone, from its proximity to Lakes to its vibrant downtown and surrounding tree-lined streets with charming bungalows.
Moreover, it's well known for its arts, music, and natural habitats. 
6. Food and Shopping in Michigan 
Michigan is the destination for you if you're one of those people that brings an extra-large bag in the hopes of finding fantastic shopping options.
Marquette, Traverse City, Petoskey, Mackinaw City, and Midtown Detroit are just a few of its downtown hotspots.
You may also find some of the best food in Michigan in places like Houghton on the Upper Peninsula, St. Joseph, Detroit, Bay City, and Grand Rapids.
Better yet, try going to Albion Malleable Brewing Co., which has a fantastic brewery and a veggie burger prepared in-house. Otherwise, it would be wise to visit D'Angelo's if you enjoy pizza and wings!
Annual Salary and Hourly Wages in Michigan
| | | | | | |
| --- | --- | --- | --- | --- | --- |
| Average Salary | Median Salary | Average Hourly Wage | Median Hourly Wage | Hourly 90th Percentile Wage | Hourly 10th Percentile Wage |
| $55,160 | $45,190 | $26.52 | $21.73 | $47.49 | $11.48 |
Data Sourced from U.S. Bureau of Labor Statistics (2021)
8. Recreation in Michigan
If you enjoy watching movies, the new screen at the Emagine Canton theater complex, located at Ford Road, is one of the nation's largest in Michigan.
However, if you enjoy the drive-in experience while sitting under the stars and watching a bit of Hollywood magic. In that case, you might enjoy living in Sanilac County, Michigan, for the Hi-Way Drive Inn. 
You may also stop at Michigan's Adventure in Muskegon, with more than 60 rides, including the wooden roller coaster Shivering Timbers and Wild Water Adventure resort.
Most thrilling part? Disney has revealed that they will be developing a Hidden Mickey theme park just outside Escanaba, Michigan!
9. Transportation and Getting Around in Michigan
Traffic delays caused by congestion have grown dramatically in Michigan's central urban regions during the past 20 years.
If you plan to travel downtown, owning a car is mandatory in most parts of the state. For those without a car, the Greyhound bus is the most practical method of getting between Michigan communities!
The Michigan Department of Public Transport and its partners provide travel services like buses and limos. Likewise, you can also utilize Amtrak train routes to wander through the American coasts!
Another great option would be with services crossing the Great Lakes. For example, it is possible to travel between Michigan and Wisconsin by ferry.
10. Excellent Living Balance
Michigan is the fourth most affordable, with a 10% cheaper cost of living than the national average and a lower cost of housing. 
At the end of the workday, Michigan residents can enjoy the outdoors in their backyard or playgrounds with options to visit its thriving metropolitan areas.
Residents of this state consider their historic downtowns and booming cities desirable locations for people to live, study, work, and play. Still, the state's high standard of living is also relatively inexpensive.
With the cost of living making it much more affordable, Michigan cities like Detroit and Grand Rapids are among the best housing markets in the U.S!
11. Education in Michigan 
The Michigan Department of Education supports the learning of its residents. It sets the standards for school curriculum development and guides students' learning outcomes. 
There are high-ranking schools and colleges across the state. East Lansing, Ann Arbor, Houghton, Grand Rapids, Flint, Detroit, and Mount Pleasant have a range of research universities, community colleges, and schools. 
Michigan has 104 colleges and institutions that make up its higher education system. 
The Student Financial Services Bureau (SFSB), a Michigan Department of Treasury division, promotes students to pursue higher education by ensuring equal access to student financial resources.
Students get the direction and resources necessary to accomplish their educational objectives through student financial assistance programs!
12. Shift Towards Economic Diversity in Michigan
In the past year, Michigan State has added numerous jobs.
More than one-third of the new employment created in the previous year was in the professional and business services sector. At the same time, manufacturing also had a substantial rise in positions. 
The focus has shifted from just automobiles to creating a diverse economy. With these initiatives, the economy expanded in several areas, particularly in the state's western region.
However, the unemployment rate is slightly higher than the national average. Although businesses are becoming more confident, the confidence measurements are still lower than the historical average. 
Nonetheless, the community and business sector are excited about a jump in the pool of qualified and skilled workers available for hire. 
13. Weekend Getaway and Holiday Spots in Michigan
Due to the state's diversified environment, rich history, crystal clear shorelines, and beautiful sandy beaches, Michigan's most popular tourist locations cater to a wide range of interests.
Traverse City is an incredible road trip opportunity. The coastal roads are stunning, with fantastic hiking, biking trails, and miles of beaches. Locals highly recommend visiting the apple farms or chilling by the beach over an incredible sunset. 
You may also enjoy visiting historical places, particularly Greenfield Village and Fort Mackinac on Mackinac Island, both of the Henry Ford historic sites.
Apart from this, Detroit is an excellent destination if you're seeking a town with a quicker pace.
Some hidden gems include Charlevoix, Mackinac Island, and Pictured Rocks National Lakeshore.
14. Airports and Railway in Michigan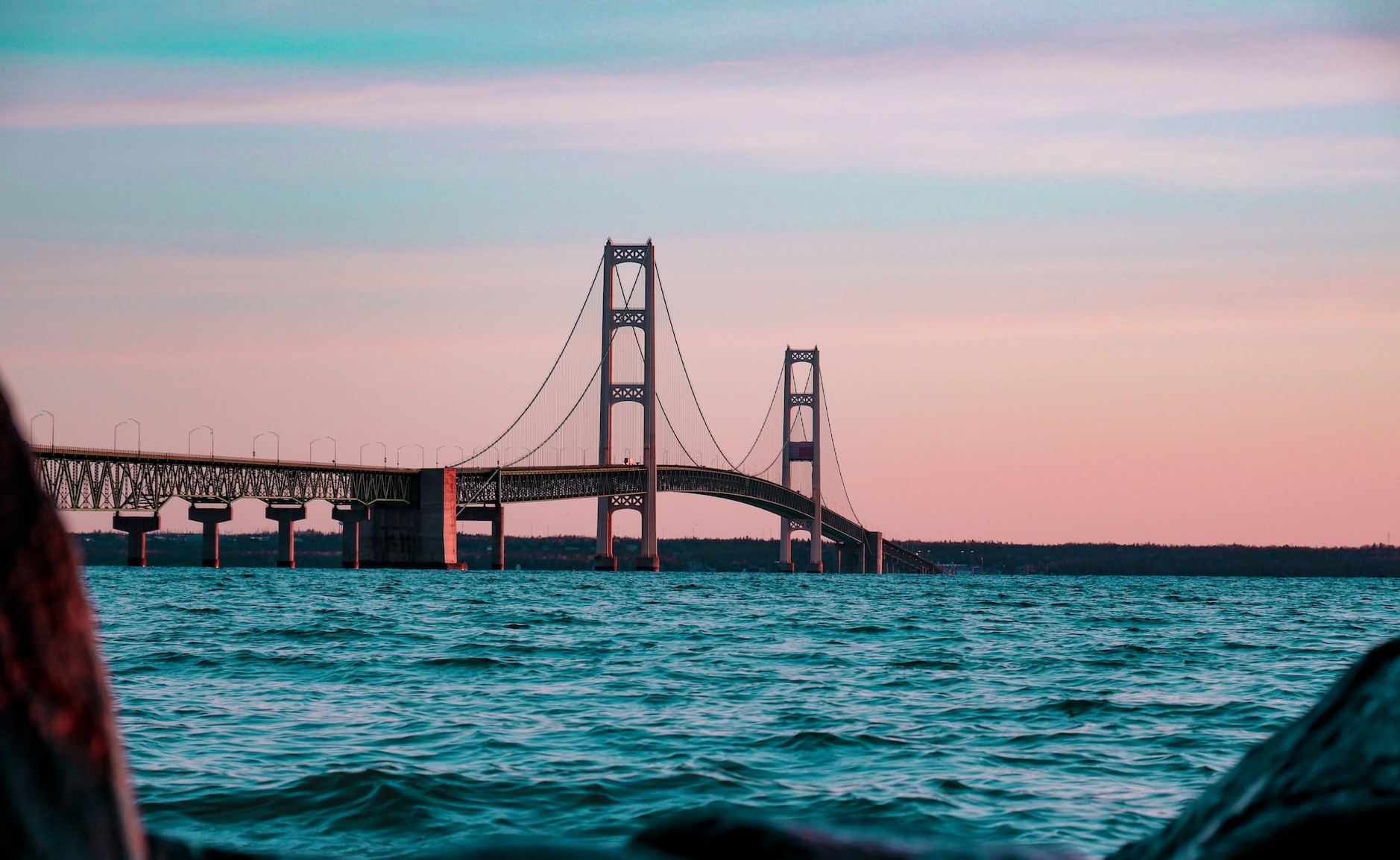 Detroit Metropolitan Wayne Airport (DTW) is Michigan's biggest airport in Romulus's Detroit suburb.
Following that, 15 airports offer commercial services in Michigan. Others are either minor hub airports. At the same time, Gerald R. Ford Airport is the second busiest state landing core.
Additionally, Michigan has 3,600 miles of railway lines. It is run by the Canadian National Railway, Pacific Railway, CSX Transportation, and Norfolk Southern Railway!
15. Future of Michigan
According to Bloomberg, Michigan's economy has ranked first among 37 other states since the COVID-19 outbreak started two years ago.
General Motors pledged its dedication to creating an all-electric future and 5,000 new and retained manufacturing jobs in Michigan.
Ford, Google, and the City of Detroit are collaboratively working to establish the Michigan Central and innovation district for a more sustainable and inclusive future.
Above all, we can expect that Michigan will focus on making investments this decade and beyond!
16. Local Favorites and Dining in Michigan
In Michigan, it seems as though residents require extra food to stay just a little warmer during inclement weather.
The Coney dog is a popular signature snack in the state. Likewise, if you enjoy sweets, you should try the delightful Bumpy Cake, famous for its fudge-covered vanilla buttercream bumps.
Regardless, there are still numerous more cuisines inspired by the heritage of some of Michigan's ancestors!
To learn more, you can also see our posts on Minnesota, Los Angeles, and Massachusetts.
Conclusion
Michigan seems a good option if you're looking to move somewhere new. The state has many great features, from excellent public universities and community colleges to affordable housing prices and a versatile economy.
Ultimately, this city provides a great place to study, work, retire, or make your life. Nevertheless, Michigan is a top contender for the best state in America to live in!