It's no secret that Massachusetts is a great place to live. Its rich history and attractions make it easy to see why so many people want to call this state home. 
But what else do you need to know before you pack your bags and move here? Let's see if it ticks all the boxes and see whether or not this city is truly worthy of your attention!
Is Massachusetts A Good Place To Live? 
Massachusetts is a great place to live, work and settle. The state is rich in history and the leader in education and sports. From the fantastic foodie scene to the rolling hills of Cape Cod, this state has something for everyone. Moreover, the people are friendly, the cost of living is affordable, and wonderful cultural and arts opportunities exist in every city and town.
Before saying yes to Massachusetts, here are our 15 points to whether or not this state is worth moving to, so tune in!
1. History of Massachusetts
Massachusetts is perhaps best known for being the landing site of the Mayflower and the Pilgrims. Massachusetts is one of the original 13 colonies and one of the six New England states. 
Around the same time, Harvard College became known as the finest in the 13 colonies. 
Before experiencing massive industrial growth in the 1800s, the state depended mainly on agriculture, fishing, and trading activities. But with the advent of technology, textiles, shoes, and paper were some of the state's largest sectors during the industrial revolution. 
As time passed, the state became known for inventing basketball and volleyball and the first subway system! Boston, at this time, was already the second largest port and a thriving industry hub. 
Massachusetts Miracle of the 1980s was the final boost for this state with incredible technological rise. MIT and Harvard were at the forefront, and the State economy thrived. 
As you can see, the history of Massachusetts indicates the success it now enjoys as one of the top states for innovation, education, and sports. 
2. Massachusetts the Location and its Geography
Massachusetts, or the "Bay State," has numerous large bay areas. 
These bays include Buzzards Bay to the south, Massachusetts Bay, Cape Cod Bay, and Mount Hope Bay to the east. However, it's the sixth smallest state in the U.S. Despite its small size, Massachusetts has a variety of landscapes, with mountains, valleys, rivers, and eastern beaches. 
The central city in Massachusetts is Boston, located near the mouth of the Charles River, where Massachusetts Bay begins.
Overall, Massachusetts stretches from the Appalachian mountainous region in the west to the rocky and sandy shorelines of the Atlantic Ocean! 
Toward the east of Massachusetts is the state of New York, and it shares most of its southern border with Connecticut. 
Per Person Annual Cost of Living in Massachusetts
| | | | | | |
| --- | --- | --- | --- | --- | --- |
| Housing and Utilities Cost | HealthCare Cost | Groceries and Drinks Cost | Gasoline Cost | Miscellaneous Costs | Total Cost of Living |
| $9,824 | $8,701 | $4,108 | $600 | $28,768 | $52,001 |
Data Sourced from Bureau of Economic Analysis (2020)
3. Massachusetts is the Third Most Densely Populated State in the U.S.
With its small size and close to 7 million people living in Massachusetts', the state is densely populated. 
Despite being the 7th smallest state in the union, Massachusetts has the third-highest density of people per square mile in the country. 
The cities with the highest population in the Bay State include Boston, Springfield, Cambridge, and Worcester. 
4. Massachusetts Love For Sports
Boston, MA, is the top sports city in the country. It was chosen as the finest sports city from the fan's perspective thanks to its 38 championships in the four major sports leagues and devoted fan base!
With the passion and love of M.A. residents, they are renowned for fervent loyalty to their esteemed sports teams.
Not surprisingly, Massachusetts scored well in many important indicators, such as team performance, franchise value, fan involvement, and attendance!
5. Humid Continental Climate in Massachusetts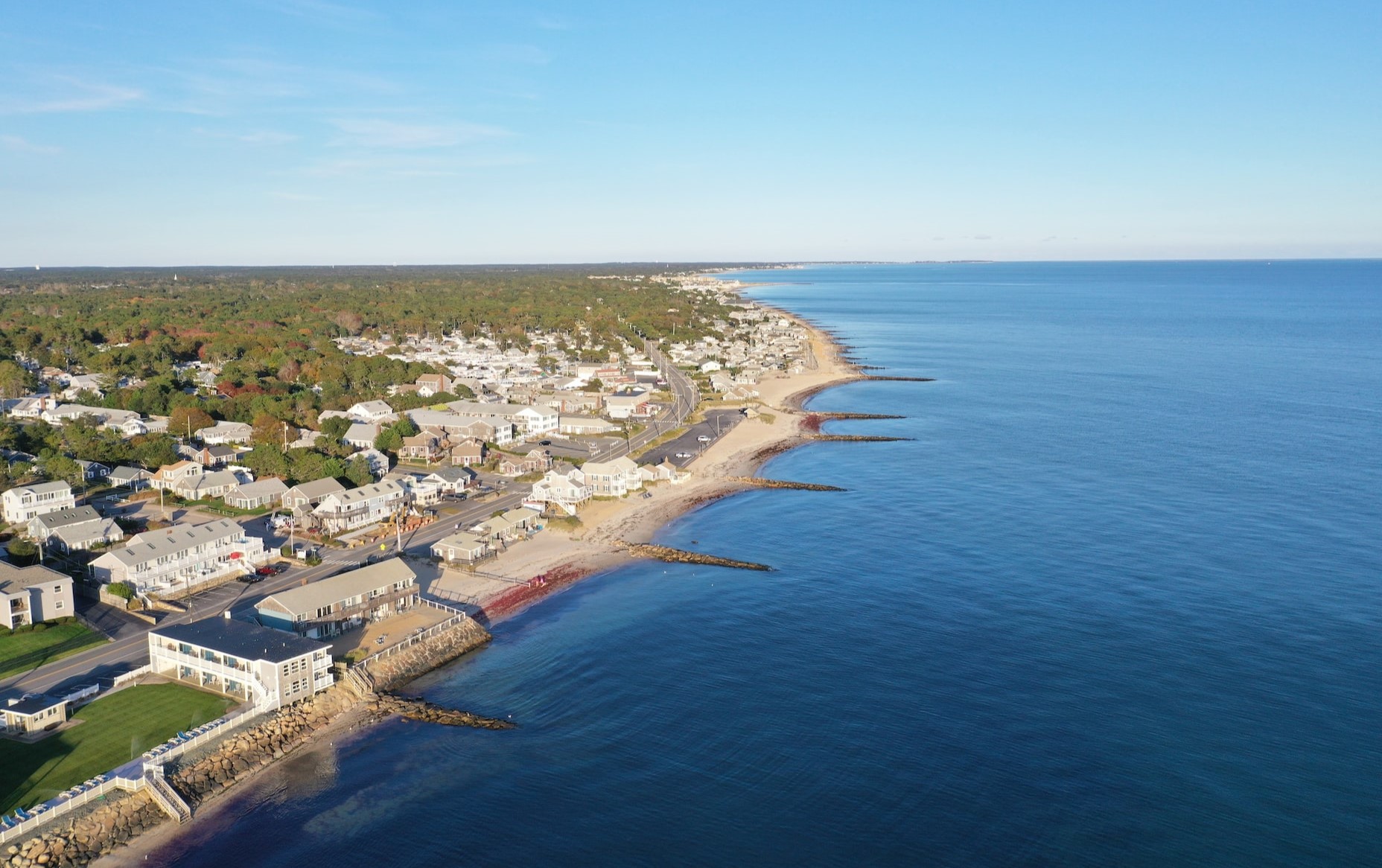 With cold, snowy winters and pleasant summers, Massachusetts has a humid continental climate year-round, while the coast experiences milder temperatures.
The state generally experiences average summer highs of 82F between June and August and average winter lows of 16F between December and February.
Massachusetts experiences roughly five snow storms every winter, with the northeastern and central regions being the worst hit.
With more elevated regions in the Berkshire Hills, winter snowfall around this city is significant!
6. Bay State's Shopping Adventure
Malls in Massachusetts are having both success and setbacks. Despite that, many town residents still find it pleasing to go window shopping.
First on the list is its top shopping center, known as Natick Mall, the largest mall in the state. Along with many retail brands, the locals mention that it's clean and has plenty of options for food.  
Likewise, Burlington Mall may come second in terms of the modern vibe.
Additionally, this state is also a great destination to eat out, despite not necessarily being known for its cuisine, as there is everything from excellent casual cafes to award-winning fine dining establishments.
There is no harm in checking out these upscale restaurants, such as Mill on the Floss in New Ashford, Alvah Stone in Montague, and Mariel in Boston!
Annual Salary and Hourly Wages in Massachusetts
| | | | | | |
| --- | --- | --- | --- | --- | --- |
| Average Salary  | Median Salary | Average Hourly Wage | Median Hourly Wage | Hourly 90th percentile wage | Hourly 10th percentile wage |
| $72,940 | $58,540 | $35.07 | $28.14 | $62.97 | $14.51 |
Data Sourced from U.S. Bureau of Labor Statistics (2021)
7. Recreation in Massachusetts
If you like theatre, then some of the oldest and most fascinating theaters are The Boston Opera House, The Strand Theater, and Regent Theater. 
Alternatively, you must visit Six Flags New England if you enjoy theme parks. Six Flags New England is the big daddy of Massachusetts' amusement parks. Known originally as Gallups Grove, this park is the largest in all of New England, MA!
If you love nature, the Mount Greylock State Reservation, Halibut Point State Park, and Nickerson State Park should be on your list. Furthermore, numerous historic sites, biking trails, and boat cruises exist. 
8. Public Transport in Massachusetts
In Boston, the subway, buses, commuter trains, water taxis, and ferries are managed and regulated by the Massachusetts Bay Transportation Authority (MBTA). 
However, recently locals have mentioned that the transit system is reaching its brink and is in desperate need of revitalization. Downtown Boston is not huge, and walking is probably the best option. 
In the regions, buses are the most common transit system and operate frequently. In Worcester, the city uses several fully electric and diesel engine buses. A standard monthly pass is $57, while discounted access costs around $30.  
Commuting in Springfield is slightly cheaper than in Worcester. 
9. Places to Live in Massachusetts
Massachusetts ranks amongst the top states to live in consistently. 
The Bay State's Education, healthcare, economy, and natural environment consistently rank at the top. However, the state's cost of living is high, with Boston and Cambridge leading the charge. Additionally, transportation and infrastructure are falling behind compared to other states.
Let's look at some of the areas to consider in Massachusetts. 
Boston is a large city with a small-town feel. In Boston, you can experience the excitement, culture, and social scene like nowhere else in the country.
There is an endless supply of art museums, concerts, sporting events, and bars that serve live music every night. 
Additionally, it's renowned for its education, health care, commerce, and finance sector. 
Worcester, Massachusetts, is the second largest city in New England.
It's home to several colleges, including Becker College and Worcester Polytechnic Institute. The city has a rich history and is famous for its architecture. 
Furthermore, Worcester is a friendly place to live with a unique mix of traditional and modern cultures.
Springfield is a gem of a city in Western Massachusetts.
A city full of history and options, Springfield, Massachusetts, offers you a little bit of everything- from hip venues to major sports arenas.
Moreover, it has world-class restaurants and a beloved zoo just moments away from downtown.
If you are looking for a quick trip to Boston, then just an hour away by train.
10. Massachusetts is the Most Educated State
Once more, Massachusetts tops as the most educated state. Bay State has the highest average university quality and the highest proportion of residents with bachelor's, graduate, and professional degrees.
As well as that, Massachusetts has the lowest number of high school students who reported being threatened and was the safest state overall in terms of public-school alternatives.
Undoubtedly, Massachusetts is renowned for having the best educational system in the nation, with its long list of educational institutes, such as
Harvard University
Massachusetts Institute of Technology
Amherst College
The University of Massachusetts in Boston, Amherst, and Lowell
Boston College
Worcester State University
Northeastern University
Berkshire Community College
Massachusetts Maritime Academy
The state is also known for having the finest schools in the U.S. The Massachusetts Department of Elementary and Secondary Education sets the curriculum framework for schools, students, and teachers.  
11. Economy of Massachusetts
Massachusetts has experienced a speedy comeback after experiencing a severe recession in the spring of 2020. The state recovered with over half a million jobs and currently has a low unemployment rate. 
Healthcare and Social assistance, professional, scientific, and technical services, retail trade, accommodation and food, finance, and manufacturing generate the most significant employment in M.A. 
M.A. is at the forefront for its standard of life, opportunities for youth and women, and commitment to promoting gender equity in the workplace!
12. Weekend Getaway and Holidaying in the Bay State
Everyone will find something to enjoy in Massachusetts, whether fine art, music, colonial history, national monuments, shopping, picture-perfect beaches, relaxed islands, or delectable seafood.
This state has many locations and activities, such as Nantucket Islands, Crane Beach in Ipswich, and Plum Island Lighthouse. 
Cape Cod is a notable destination for summer holidays and is known for its beaches. Similarly, Martha's Vineyard is another popular but expensive choice. The movie Jaws popularised the island leading to many celebrities buying a home. 
Lastly, don't miss the Freedom Trail, which connects 16 historical monuments and marks some of Colonial America's most recognizable features!
13. Airports and Interstate Railways
Boston Logan International Airport (BOS) is arguably the largest, with the most airline routes and flights.
There are eight airports in Massachusetts that offer year-round commercial and charter flights too.
Massachusetts was the first state to run a railroad (the Granite Railway) in 1826. The Bay State already had 301 route miles by 1840.
Currently, Class I, CSX Transportation, regional railroads Pan Am Railways and Providence & Worcester, and several other short-line railroads, operate most of the Massachusetts railroad network!
14. Cost of Living In Massachusetts
The cost of living is much higher in almost all of M.A.'s cities, towns, and counties if compared to the national average.
For instance, the average house price in Boston is over $750,000. That's over 35% of the national average. However, with all the benefits of living here, it's still cheaper than New York, San Fransisco, or Washington, D.C. 
Rentals around the state are also higher than the national average. The median rent in Boston is $2,400, $2,650 in Cambridge, and over $3500 in Lexington. 
However, there are cheaper areas to rent elsewhere, such as Springfield, Pittsfield, and Worcester, where the median rent is below $1600 monthly. 
The cost of healthcare is much cheaper in M.A. compared to the national average. 
15. Eating in Massachusetts
Beantown has established a reputation as a foodie metropolis, boasting dishes from classic New England cuisine, world-class seafood, and an expanding international culinary scene.
You'll need a bib for Boston, MA's renowned food scene, which includes New England clam chowder, lobster rolls, legendary baked beans, and Fenway Franks.
Check out No. 9 Park and Mistral for French cuisine if you like fine dining. For an incredible fine dining experience in Modern American food, check out Menton and Tasting Counter.  
At least one of these iconic dishes needs to be part of food lovers must visit places in the state capital of Massachusetts!
Outside of Boston, don't forget to check Bocado in Worcester for mouth-watering Spanish food. Sea Food lovers head to Skipper Chowder House in South Yarmouth and Lobster Pot in Provincetown. 
To learn more, you can also see our posts on Boston, Minnesota, Michigan, and Miami.
Conclusion
Overall, Massachusetts is doing very well and performing well across many categories. A large portion of its success comes from its highly developed economy.
The state has incredible sports infrastructure and likely the best education. Plus, it offers residents a little extra in terms of quality of life, public health, and financial stability. So Massachusetts might be an ideal choice if you're looking for a great place to work, study or settle down!