Biomedical Science is a field of study that focuses on the study of life and health sciences. Biomedical scientists study the biology of human health and disease to support the diagnosis, treatment, and prevention of disease. The coursework and curriculum in this field are regarded as challenging, requiring extreme dedication by its students.
However, if you are interested in studying this field, keep on reading. You will see that Biomedical Science is worthwhile to pursue!  
Is Biomedical Science Hard?
Biomedical Science is one of the most challenging subjects to study because it requires you to cover lots of disciplines, take on difficult laboratory work, and clinical trials, and gain in-depth knowledge of health and medicine. Nevertheless, it's a course that deserves to be acknowledged because it leads to the discovery of new cures and treatments for diseases and improves the quality of life.  
Listen up as we discuss why taking a Biomedical Science field is a tough yet fulfilling career in the end! 
1. Biomedical Science is a Multidisciplinary Field of Study
Biomedical Science covers numerous disciplines including:
biochemistry
molecular biology
biomedical engineering systems
biotechnology
genetics
cell and developmental biology
human nutrition
human structure and function
immunology
microbiology
neuroscience
pathology
pharmacology
physiology
psychology
While each college/university may focus their Biomedical Science degree on a few particular areas, you will still be expected to master more than just one discipline. However, this is also an exciting aspect of Biomedical Science. You don't have to pick between science and healthcare – you can study both!
2. In-depth Knowledge of Human Body Functions and Health
As a Biomedical Science student, you will gain a sound understanding of how the human body functions in healthy and diseased states. You will study the barriers to health care and methods for treatment.
As a Biomedical Scientist, you will be expected to assess treatment efficacy and design medicines to alleviate symptoms or vaccines to prevent diseases. Your professional opinions can impact public health policy.
This means you will need to build a strong foundation in biology and take specialized courses in anatomy, microbiology, genetics, physiology, developmental biology, and immunology.
This hard work will pay off because it is tremendously rewarding to gain knowledge and skills that can positively impact the health of people and populations. The degree can also serve as the springboard for students who want to gain entry into medical or veterinary school.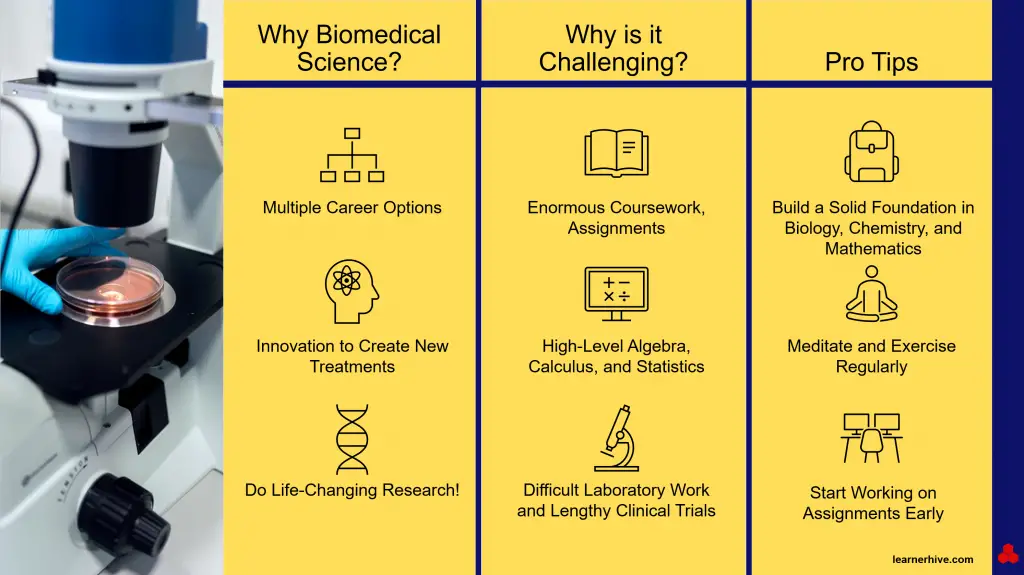 3. Numerous Lectures in Chemistry
Chemistry is used in developing new approaches to complex biochemical, biological and medical challenges. Chemists study the composition of molecules and chemicals to understand how they interact with each other.
You will be expected to learn how to apply chemistry to drug discovery and the determination of disease etiology. Knowing chemistry is crucial in the creation and study of new pharmaceutical drugs to treat diseases.
Overall, we salute every student in this field as our society can't live without medicine or technology, and biomedical science is at the forefront of both fields!
4. Knowledge of Algebra and Calculus
To be competitive in the medical field, you must know how to use mathematics.
While mathematics competency requirements differ from university to university, to gain entry into Biomedical Science, you are normally expected to have completed at least four years of high school courses: one year each of algebra 1, geometry, algebra 2, and an advanced mathematics class for which algebra 2 is a prerequisite.
Calculus and its applications to the life sciences are usually studied in the first year of the degree. Students who are not passionate about mathematics may find the course materials challenging.
Still, it is worth studying since it gives you a strong foundation to apply mathematical concepts to critical healthcare decisions. You can also continue into a higher degree by research or get into high-paying research positions within universities, government agencies, and private companies.
5. Biomedical Science has Challenging Laboratory Work
Biomedical scientists tend to work in laboratories to carry out experiments and investigate samples using sophisticated lab equipment and computers. In a Biomedical Science degree, you'll be prepared for this through practical laboratory work, where you'll be working with chemical compounds and biological materials.
If you are interested in biomedicine, you have probably already completed at least one year of lab-based courses in Biology or Chemistry in high school. Laboratory experiences aim at providing students with a better understanding of scientific principles and facts. They may also boost students' ability to recognize ideas, improve planning, and develop higher quality scientific research and explanations.
6. Emphasis on Research in Human Disease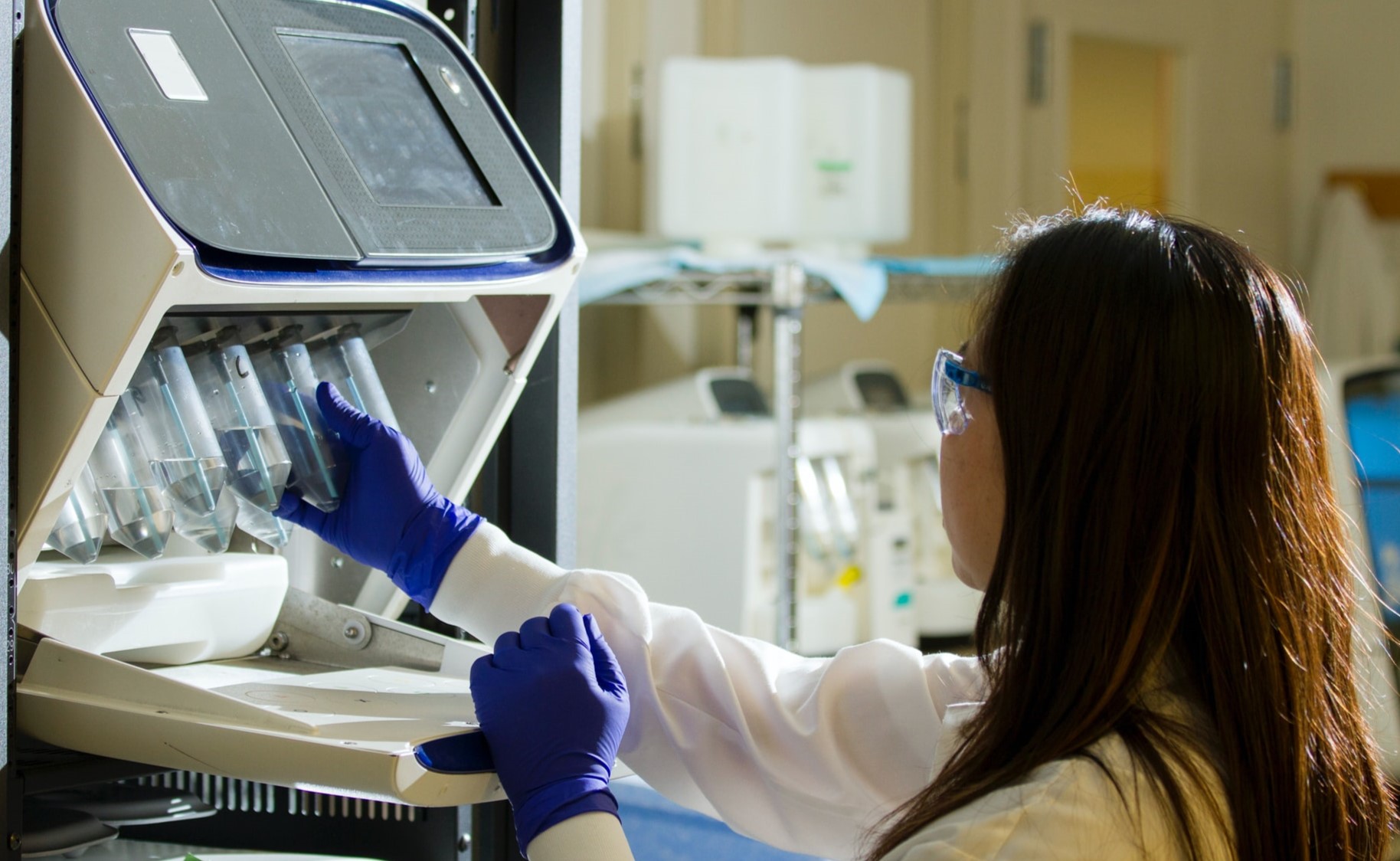 Biomedical science is difficult to study because it involves a lot of research. Biomedical research aims to find methods to prevent and treat diseases that might result in illness and death. These could be infectious diseases, deficiency diseases, hereditary diseases, and physiological diseases.
This field of research is very broad and can include various areas of focus, e.g.: cancer, cardio-respiratory, molecular pathology, stem cells, etc. You may also be involved in research to help diagnose, monitor, and manage new and emerging diseases.
This kind of research requires a long-term commitment from students and can be daunting at first. However, think about the significant impact you can bring about for our society when your research contributes to finding a cure for diabetes or cancer!
7. Probability and Statistics in Research
Primary biological research areas like study planning, sample allocation, analysis, and interpretation require statistical reasoning. Statistics is the science of quantitative methods. It guides experimental data collection, interpretation, and presentation.
In Biomedical Science, you will need to be able to draw reasonable and accurate inferences from collected data in clinical trials to make sound decisions in the presence of uncertainty. This can be achieved by mastering statistical concepts. Sharp statistical reasoning skills can prevent biases and errors in research.
Don't worry if you have not yet learned the foundation of statistics before entering a Biomedical Science degree. Most universities will allow you to build this knowledge up early on in the program. Gaining the statistical expertise to choose the best methods to evaluate and present your experiments will set you apart from your peers!  
8. Lengthy Clinical Trials in Biomedical Science
Biomedical Science students will get the opportunity to gain practical experience via undertaking collaborative research with their peers or professors or working independently on a topic of their own choosing. They may also get placement opportunities in clinical settings, clinical trial centers, and pharmaceutical and biotechnology companies.
Clinical trials require enrolled patients to be monitored over an extended period to test a novel medication for effectiveness and adverse effects.
Clinical trials should be safe and ethical and require sophisticated procedures. Furthermore, clinical trials could be long-term that involve many hours of study each day. Students may risk burnout and fatigue if they don't take sufficient breaks.
But don't worry. Professors are conscientious about protecting their students' well-being while ensuring they get the best clinical training possible! Learn more about how to get into Biomedical Science!
9. Innovation to Create New Treatments
In addition to learning the various fields mentioned above, don't forget the goal of Biomedical Science. Ultimately it is supposed to help society by applying scientific knowledge to medicine and healthcare.
You cannot excel by just studying existing problems and cures. While laboratory research can help you comprehend the various diseases and how they affect human health, you will be responsible for finding new ways to treat or cure diseases! What this means is you'll work with a team of other scientists and specialists, and come up with solutions that no one has ever seen before. This requires a lot of time, patience, and innovation.
In turn, you will be rewarded with a wide range of skills, including problem-solving, teamwork, data analysis, and critical thinking. Moreover, you will contribute to the betterment of society and save lives! 
10. Sophisticated Academic Undertakings
Biomedical Science is a demanding and competitive field, especially because many students view it as a pathway to medicine. You must put in a lot of effort to stay on top of all your work, review notes, and study for exams. You need to make sure to avoid distractions in your studies.
However, putting in all those extra miles will pay off in the long run. Once you graduate you can go on to work in various fields such as biotechnology, microbiology, medicine, pathology, pharmacology, and genetics. Biomedical Science offers intriguing career opportunities in specialized laboratory work, consulting, research, education, and management. 
Find out 11 things you need to know before considering a career in Biomedical Science!
To learn more, you can also see our posts on Public Health, Forensic Science, and Dentistry.
Conclusion
Biomedical Science is essential for our future. Students pursue this field because it's worth studying the advances in life sciences, medicine, and technology.
Biomedical Science is one of the hardest coursework due to its multidisciplinary nature, challenging laboratory work, and lengthy clinical trials. It demands knowledge in various life sciences, continuous research, innovation, and mathematical skills.
However, studying this course is a beneficial pursuit because of the astounding values you can bring about in this field. You will contribute to the betterment of human health and society. You can save lives!
Learn about the similarities and differences between Biomedical Science vs. Nursing.