Dermatology is a challenging field to enter, but it's also among the most rewarding. You gain knowledge about skin and what it takes to keep it healthy or relieve skin problems that can help people worldwide.
Therefore, Dermatologists benefit people from all over the world to attain healthier skin which is possible only with their specialization. So, before thinking about becoming a dermatologist, let's see if this career is for you!
Is it Hard to Become a Dermatologist?
Dermatology is a great career because it's one of the most gratifying occupations. Like most medical fields, dermatology is challenging. It would be best if you had a strong motivation and a passion for skin and health. Dermatologists must study a considerable number of years followed by years in residency programs before they can practice. However, Dermatologists make up to $400,000 annually. 
So, are you ready to become one of these specialists? The only thing that remains is for you to decide if it's worth it! Here are 11 things to assist you in your decision-making journey!
1. Passion for Skin and Beauty in Dermatology
Some clinical professionals are passionate about skin, beauty, anti-aging, and health and choose to specialize in dermatology. Others opt-in due to its distinctive fusion of aesthetics and surgical procedures.
And some practitioners pursue it because it offers a work-life balance and typical working hours like in private medical practices.
Whatever it is, you need a powerful urge for skin and beauty and the ability to keep up with all the latest trends in cosmetics, lifestyle, and skincare!
If you see yourself working in a constantly evolving field that continues to be driven by science and technology? Then, dermatology could be a good career option.
2. Dermatologists Need Considerable Years of Study and Training
Dermatologists complete roughly ten years of post-secondary education and training before they start seeing patients on their own.
To become a dermatologist, students must start by completing a four-year undergraduate degree. They then enroll in four years of medical school, in the final year of which students must take an exam to get their medical license. Additionally, students may take an additional year to do an internship to build experience. 
After that, students begin their residency, which may last up to 5 years. Furthermore, some spend an additional year or two in a specialized residency program to gain further expertise. 
Overall, students who aspire to become dermatologists should plan to spend 12 to 15 years completing the necessary academic and professional prerequisites!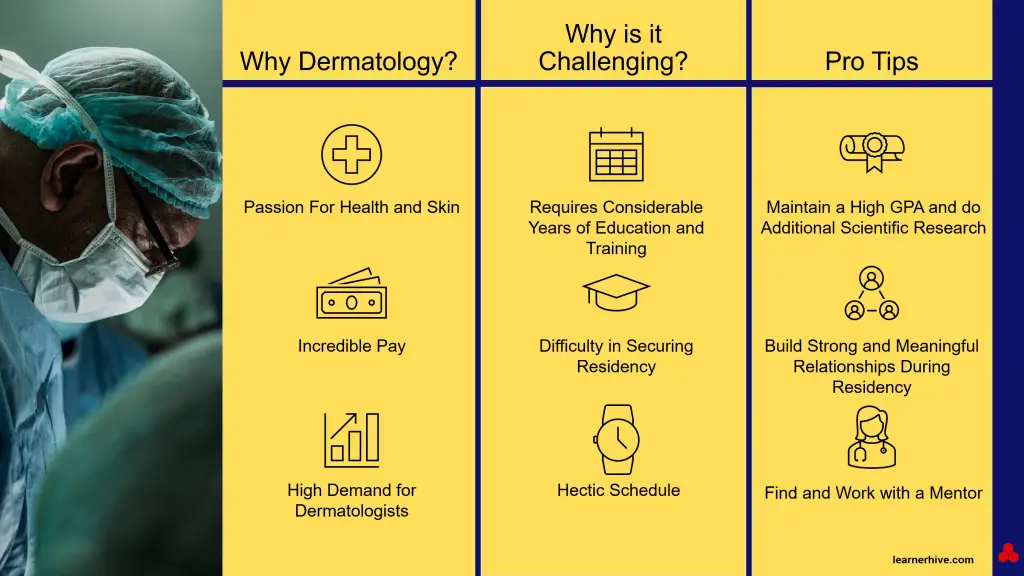 3. Residency Training for Dermatologists
To successfully diagnose, treat, and prevent skin illnesses, you must have professional experience before pursuing a career in dermatology.
After receiving their medical license, aspiring dermatologists enroll in residency programs to get clinical training and experience.
The initial two years are focused on general residency, followed by 3-4 years of specialized residency in dermatology. 
On a typical day, dermatology students arrive at hospitals in the morning to study and participate in didactics before commencing clinical rounds and seeing patients.
After completing their residency, clinicians must pass the USMLE Step 3 (the United States Medical Licensing Examination) exam to start practicing!
4. Clinical and Diagnostic Expertise as a Dermatologist 
Being a dermatologist requires a solid knowledge of the skin and the different diseases that can affect it.
Additionally, you'll need to be an expert in clinical procedures and be able to perform them on people with skin disorders. Practitioners also identify skin issues and offer treatment recommendations.
As you can see, there are a large number of responsibilities for a dermatologist. On top of that, they may also recommend diet and general healthy habits. 
5. Exposure to Infections 
Dermatologists may deal with bodily fluids just like the majority of medical practitioners.
Throughout their working day, dermatologists run the danger of coming into contact with infectious diseases from a variety of sources.
Their work also involves dealing with warts, moles, rashes, scars, and fungi. As such, dermatologists get exposed to infectious skin disorders!
Therefore, dermatologists must have an adequate safety check and risk assessment. 
6. Dermatologists get Paid Incredible Salaries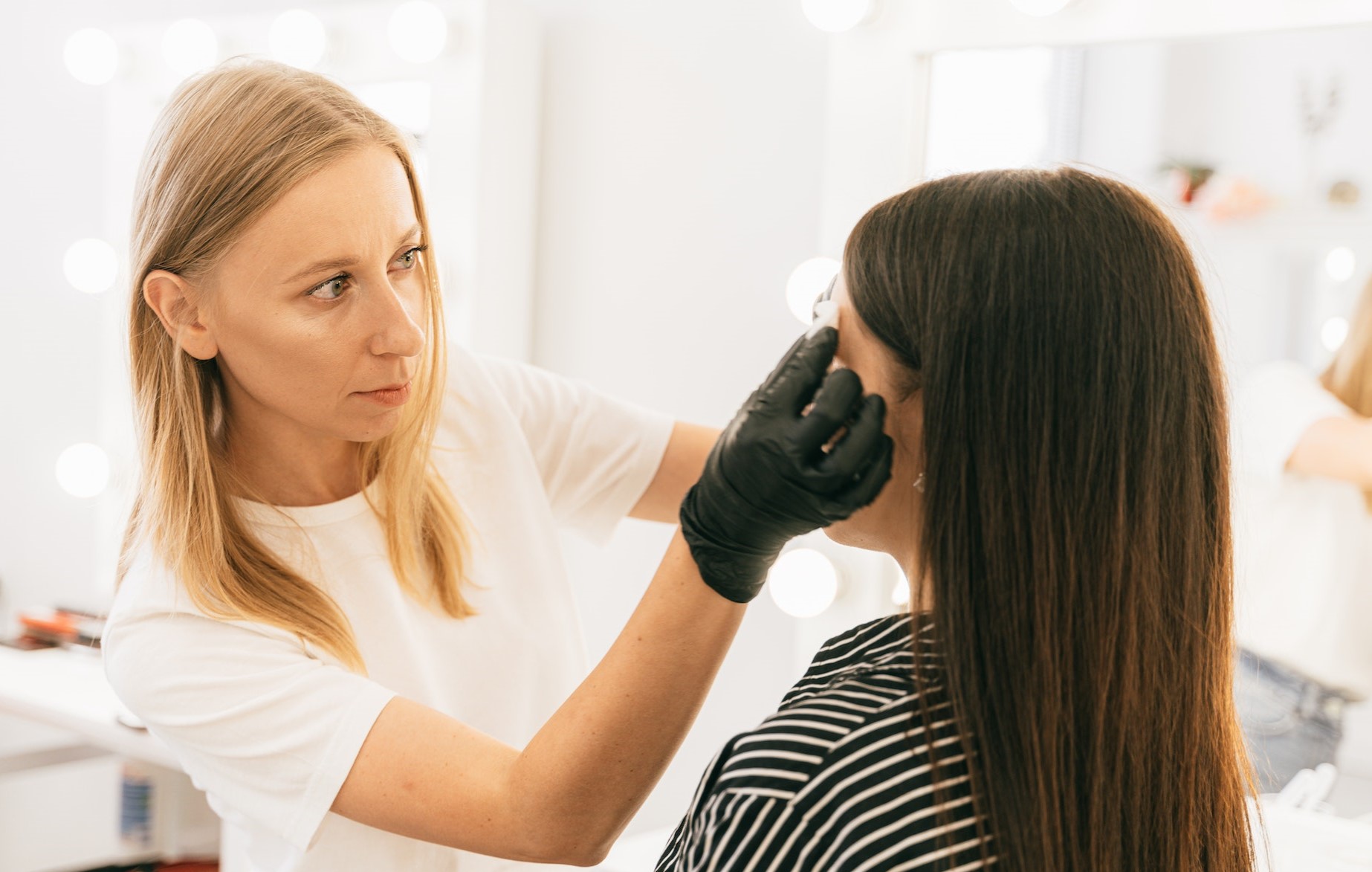 A dermatology career is worthwhile because of its high demand and outstanding salaries. Furthermore, due to the lengthy process to become certified, this profession has less competition. 
Among all physician specialties, dermatologists have some of the highest incomes. Salary, bonuses, and profit-sharing payments are all accounted for in this total remuneration.
A dermatologist's compensation is lower during the first year of practice. Their median pay for the first year of practice is $234,000.
However, a dermatologist's annual compensation averages $365,450 by the sixth year of practice. At the same time, an experienced dermatologist can earn well over $400,000 annually! 
7. Working Hours as a Dermatologist
Once you become licensed, you will frequently work 40 hours a week or eight hours daily. To suit patients' demands, dermatologists may agree to work late into the night or on the weekends.
However, benefits may include paid holidays and vacation time, health insurance, and retirement plans!
8. Specializations in
Dermatology
Dermatology includes various specializations. Some of these are Cosmetic, Pediatric, Dermatopathology, and Mohs Surgery.
For example, suppose you want to specialize in Cosmetic Dermatology. In that case, you might do non-invasive and cosmetic treatments like facelifts, liposuction, and skin grafts!
9. Work Life Balance in the Dermatology Sector
Because of what they usually handle, dermatologists experience fewer emergencies and frequently keep a fairly regular schedule. 
It provides them a schedule equivalent to most other day jobs and frees up their evenings and weekends.
Many dermatologists volunteer. For instance, some dermatologists decide to volunteer with Habitat for Humanity. They also have time for hobbies and learning new skills such as music, languages, etc. 
Doing so keeps their thoughts engaged in fulfilling tasks outside of their professional career!
10. Job Opportunities in the Dermatology Industry
Dermatologists work in various settings, including large government or private institutes, private clinics, and government or private hospitals.
To instruct future dermatologists in medical school, some practitioners prefer to work as professors or researchers in Universities.
11. Healthcare Demand Worldwide
The need for dermatologists is growing globally. There are jobs available in the U.S, Canada, Australia, the U.K, Germany, and some parts of Europe. 
You need to have the proper education and experience. And once you've met those requirements, you can start pursuing a profession overseas! Remember to check visa applications and other requirements. 
In the end, as the world's population continues to grow and develop, there is a demand for healthcare specialists all over the globe!
To learn more, you can also see our posts on Dentistry, Radiology, Pharmacy, and Biomedical Science.
Conclusion
It's a lengthy and challenging road to become a dermatologist. However, it might be financially rewarding and professionally fulfilling, particularly when you consider that you're assisting others in living higher quality lives.
Ultimately, dermatologists can choose to pursue a career in Universities, government, or the private sector locally or overseas.