If you are currently planning on going to college, you must wonder whether a degree in marketing is worth it. How prevalent are advertising and marketing? As you will see from our post below, marketing has always been an exciting topic in people's minds. 
Marketing has been one of the most popular and competitive majors in colleges across the country. So let's examine if marketing is a degree worth pursuing.
Is a Degree in Marketing Worth it?
Yes, it's one of the best majors to pursue. A degree in marketing helps you excel in several careers, including brand management and marketing research. In addition, it is an academically rigorous program that will help you develop strong advertising skills. In this degree, there is a selective application process and certifications to acquire in addition to your academic levels. 
Here are a few factors to consider before committing to this educational route. Let's begin!
1. Marketing is More Than Branding and Advertising
Marketing involves all processes, activities and institutions in developing, communicating, promoting and delivering products and services that are deemed of value for a particular set of customers and clients.
It is the process of organizing and implementing ideas, products, and services from inception through to distribution to achieve specific goals. Contrary to popular beliefs, marketing is not limited to branding, advertising, promotion and public relations alone. Marketers contribute to other stages such as market research, concept development, product creation, price setting and distribution.
Marketing majors learn about consumer psychology, market research, market segmentation, product and service creation, pricing, and distribution.
They often focus on coursework that helps them match products and services with consumer wants and needs.
To succeed in this field, students should have a firm grasp of the fundamentals of such as:
Commerce
Management
Sales
Finance and Data Analytics
Market Research
Interpersonal Communication
2. Worthy Major To Pursue
A degree in marketing is a worthy major to pursue. 
An education in marketing can open doors for you in companies of all sizes. Therefore, studying this degree is a brilliant idea because it's a broad field that may lead to several well-paying jobs and excellent job prospects. It also provides professional development and advancement.
However, this industry is incredibly competitive. If you aren't prepared to compete, you may miss out on promising openings.
As a student, you will have to work hard to brainstorm and promote your ideas then repeat the process all over again, which might feel like a never-ending cycle. However, you will excel if you are creative, enthusiastic, persuasive and organized.
Possible entry-level careers include:
Account/social media coordinator
Event marketing coordinator/specialist
Project coordinator
Mid-level entry positions include:
Advertising manager
Public relations manager
Brand manager
Sales manager
Social media manager
Community manager
Once you reach the executive level, think:
Director of Advertising
Director of Media
Director of Market Research
Director of Marketing Data Analytics.
The top position is definitely Chief Marketing Officer.
3. Academic Degrees
Colleges and universities usually offer AS, BS, MS, and Ph.D. in marketing courses.
Students pursuing an associate's degree (2 years) will likely need to take many general education credits to graduate.
Positions at the entry level in business, sales, and management are more readily available to those with a Bachelor's degree (4 years).
All your time in graduate school (2 years) will be spent on marketing classes that expand your understanding of central marketing concepts and help you specialize in area/s of your choice.
A doctoral education (3-7 years) in business, consumer studies, or research can provide cutting-edge knowledge in marketing areas.
4. Selective Application Process
To advance from the introductory level of marketing programs, students must complete professional admission, a rigorous and selective procedure.
One must have at least the following documents to be considered for admission:
High school transcripts or GED transcript 
Official college or university transcripts (if transferring institutions or pursuing a higher level degree)
English proficiency
Participation in clubs and organizations 
Work experience and internships
To those undergoing a BA or BS, students must obtain 120 credits.
Keep in mind
You can save time and money if you have already earned college credit or completed Advanced Placement (AP) examinations while still in high school. Getting credit shortens the duration of the degree and thus reduces your college tuition fees.
5. Professional Certifications
There is no mandatory licensing exam for marketing graduates.
However, the American Marketing Association (AMA) strongly suggests that graduates pursue professional credentials. They offer certifications in:
Digital Marketing
Marketing Management
Content Marketing
Recent graduates advise their younger peers to join the AMA organization and become professional members.
Overall, remember that getting certified will look great on your CV after you've finished school and may help you land your dream job. If you are already working, getting professional certifications may help propel you to the next step on your career ladder.
6. A Less Challenging Business Major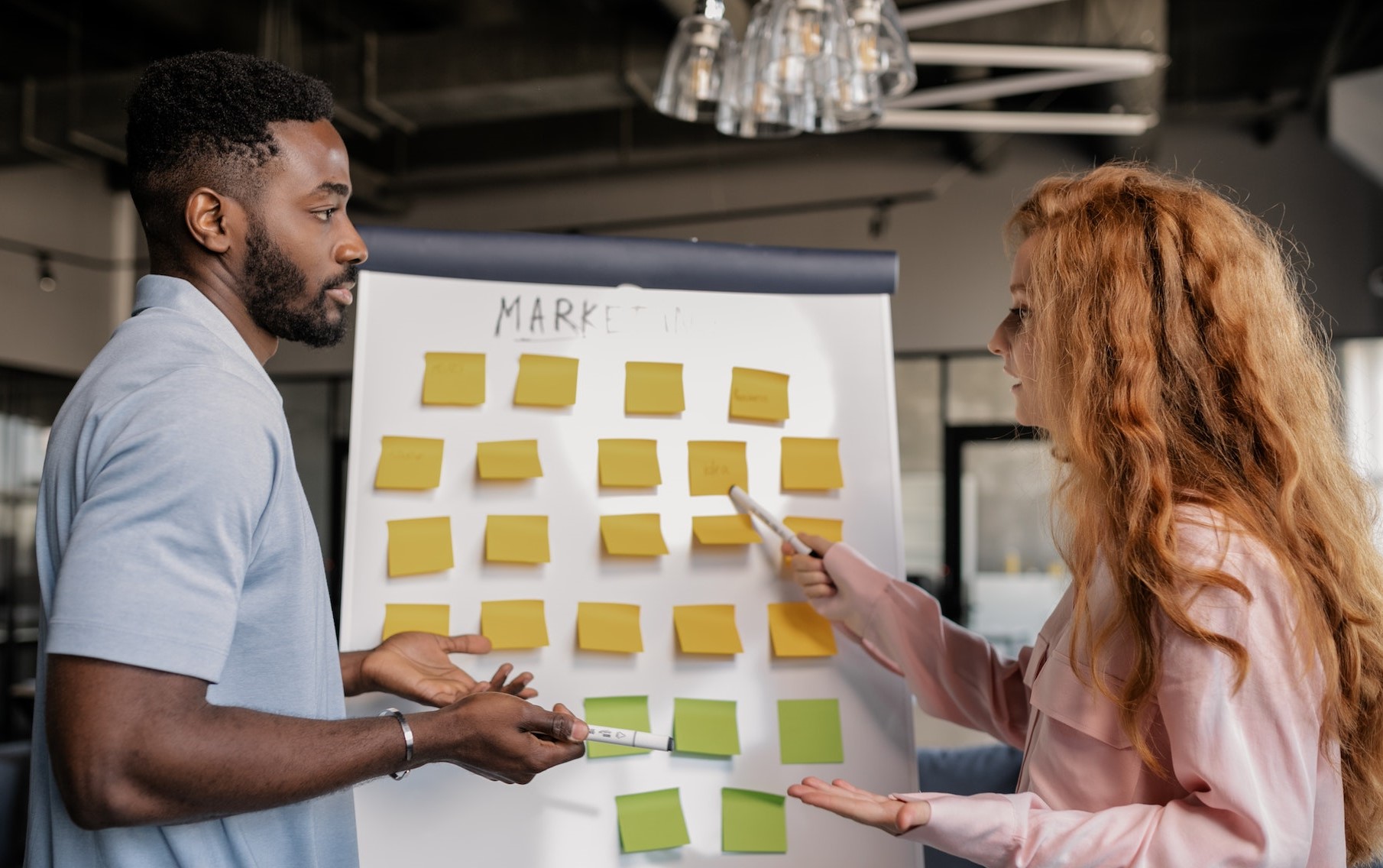 Marketing is one of the easier Business majors, compared to Accounting, Finance and Economics. But how easy it is will depend on how much work you put into getting the marketing degree.
Some of the relevant classes you'll find in this program are:
Business-to-Business Marketing
Global Marketing Techniques
Product Management
Logistical Strategies
Corporations and Financing
Anyone can pursue marketing without a background in mathematics. However, marketers do need to know basic math and data analytics especially for conducting market research. 
In some cases, students may find marketing challenging due to the analytical work and promotion methods.
7. Marketing Approaches
Since so many marketing activities now take place online, techniques involving social media have become increasingly important.
As part of their social media assignment, students may be required to manage various social media channels for a brand or campaign. Tasks will include planning campaigns, developing campaign budgets, posting content, engaging with users, and resolving complaints. 
Additionally, students collaborate and coordinate with other student teams inside their classrooms to implement the marketing strategy.
They also engage in activities such as:
Design
Public relations
Long-form content
Report research projects
Throughout the Marketing program, students write multiple papers, culminating in a research or thesis paper on marketing strategies.
8. Fascinating Courses
Marketing is one of the most fascinating courses available because textbooks, resources, and applications are boundless. You can attend school, teach yourself, get a mentor, and take classes online.
However, it can be highly intimidating for some people to dive headfirst into marketing. 
If you like interacting with people and have a genuine interest in any of the marketing aspects, completing a marketing degree will lead to a rewarding career path.
Alumni who have found success in the field highlight the importance of study and practice. Creativity on its own is not sufficient. Marketing requires teamwork, communication, collaboration and perseverance to keep pushing past possible failures.
9. Balanced Student Life
An education in Marketing gives students a unique opportunity to gain exposure to and understand various cultures and people.
All marketing degrees have at least one core unit in consumer behavior. You will have the opportunity to focus on learning to read your customers and meet them where they are regarding their interests and values in both the physical and digital space.
You will also study past marketing campaigns, both successful and failed ones, so you can improve your strategic thinking skills.
Considering all activities in life could help you gain insights into society and consumers' mindset, you can still spend time outside your classes enjoying life.
Simply attending music festivals, dining out, going to concerts, visiting a winery, and even just watching a movie trailer could give you ideas and lessons for your own future career.
10. Extracurriculars & Internships
You can improve your hard and soft skills, as well as your networking abilities, with an internship in marketing degree.
School events, extracurricular activities, and volunteer work can help you learn more about your talents, weaknesses, and areas of interest.
During their internship, some students worked alongside celebrities like LeBron James, Jennifer Garner, and Deion Sanders to help a client promote advertising. Part of their job was to go to meetings and discuss how the client and their skills fit together and how our organization could help them.
At the same time, some students work in an agency, where they have to call advertising agencies daily as part of their job. It just depends on which internship you can land!
Pro Tip 
Don't close your mind to new experiences and opportunities. Modules related to marketing would be of great help.
11. University Costs
Tuition and fees for the Marketing program in the United States average $7,713 for in-state students. 
Meanwhile, the cost for international students is $23,773 for 2021-2022.
On the other hand, the cost of obtaining a Master's Degree in Marketing can be anywhere from $28,500 to $64,000. While a Ph.D. could set you back anywhere from $31,500 to $97,200.
Professional certifications can vary between $1,400 and $12,000.
To learn more, you can also see our posts on Digital Marketing, Advertising, and Data Analytics.
Conclusion
A marketing degree can lead to diverse career paths in branding, product development, merchandising, public relations, customer service, sales, social media management, and distribution.
You can work in a marketing agency handling multiple clients, advertising, or an in-house marketing department for a specific organization.
Since marketing is a process that no organization can avoid, demand for marketing graduates and specialists has increased in recent years.
Ultimately, students who acquire a marketing degree will not have to worry about job scarcity when they graduate. From here on out, the rest of your journey begins.