If you're thinking about making sewing your next hobby or skill, you might be hesitant to start. If so, know that the skills don't require exceptional talent! 
Sewing is an easy, comfortable, and enjoyable pursuit that can result in some extraordinary things. So, should you give it a try? Let's find out if taking up sewing is a worthwhile use of your time!
Is Sewing Hard?
Sewing is easy to learn because you can start sewing with a basic sewing kit. Furthermore, it involves simple machine operation, which you can learn in a few weeks. As a matter of fact, anyone can learn sewing regardless of age or experience! However, sewing requires patience, diligence, and determination. 
Sewing might be a good choice if you consider picking up a new goal. Let's begin!
1. Sewing is About Crafts, Design, and Stitching
Sewing is the art of attaching objects and parts of clothing by using a needle and thread to form stitches, either by hand or using a sewing machine.
Stitching has many types and several crafts that utilize this fundamental method, such as embroidery, tapestry, quilting, appliqué, patchwork, and couture.
With sewing, you can use your imagination at every stage to design your clothing, from picking the fabric and pattern to adding the finishing touches.
With the focus and work required in needlework, sewing is a practical method of avoiding procrastination meanwhile boosting your confidence and productivity. 
2. A Brief History of Sewing as One of the Oldest Art Forms
Sewing is one of the world's oldest artistic fields and is a great way to explore your inner artist. 
Before the invention of yarn and weaving methods, clothing was made from animal skin using bone, antler, ivory needles, and sinew as thread.
For thousands of years, all sewing was done by hand. However, with the invention of the sewing machine in the 19th century, there was a surge in clothing production that gave rise to today's mass production and quick fashion.
Currently, sewing is primarily used to make garments and furnishings for the home. 
3. Sewing Requirements
Sewing is a type of needlework ability. 
It involves a basic understanding of sewing techniques but also requires good hand-eye coordination and great attention to detail.
Sewing primarily involves:
Crafting for personal use
Creating furnishings and upholstery
Mending
Fixing other simple household items
Keep in mind that proficiency with a sewing machine is the most critical ability required to succeed as a tailor. However, there's tremendous value in handmade items made without a device in today's world. 
Because of that, you may easily make adjustments and repairs if you know the basic sewing skills!
4. Sewing Tool Kit
You'll need a few tools along the way if you're prepared to start your first sewing project. 
The most critical items are hand sewing needles, thimbles, and thread.
When it comes to cutting tools, don't forget your shears. A seam ripper and craft shears should also be kept beside your sewing area for cutting threads.
List a yardstick, a seam gauge, and a tape measure among your essential measuring equipment. Here's your checklist for a basic sewing tool kit,
Fabric Cutting Shears
Craft Shears
Thread Cutter
Tape Measure
Sewing Pins
Needle Threader
Thimbles to protect your finger
Box of Sewing Needles
Variety of Thread
Organization Case
As a beginner, you could put up a fantastic basic sewing kit at online shops for around $40 to $90!
5. Sewing Machine
To improve in this craft, beginners typically go on to learn how to operate a sewing machine.
There are many reasons to use a sewing machine, such as
A sewing machine can significantly improve your sewing speed
You can make more complex designs.
Your final creation will have a more precise stitching
You can sew on more robust fabrics such as corduroy, canvas, denim, and suede
If you have the funds, taking a few lessons is an excellent way to learn how to use a sewing machine and gain other sewing skills.
For a beginner, a decent sewing machine may cost $150 to $350. However, plan on spending about $20 per hour for sewing lessons!
6. Fulfillment in Sewing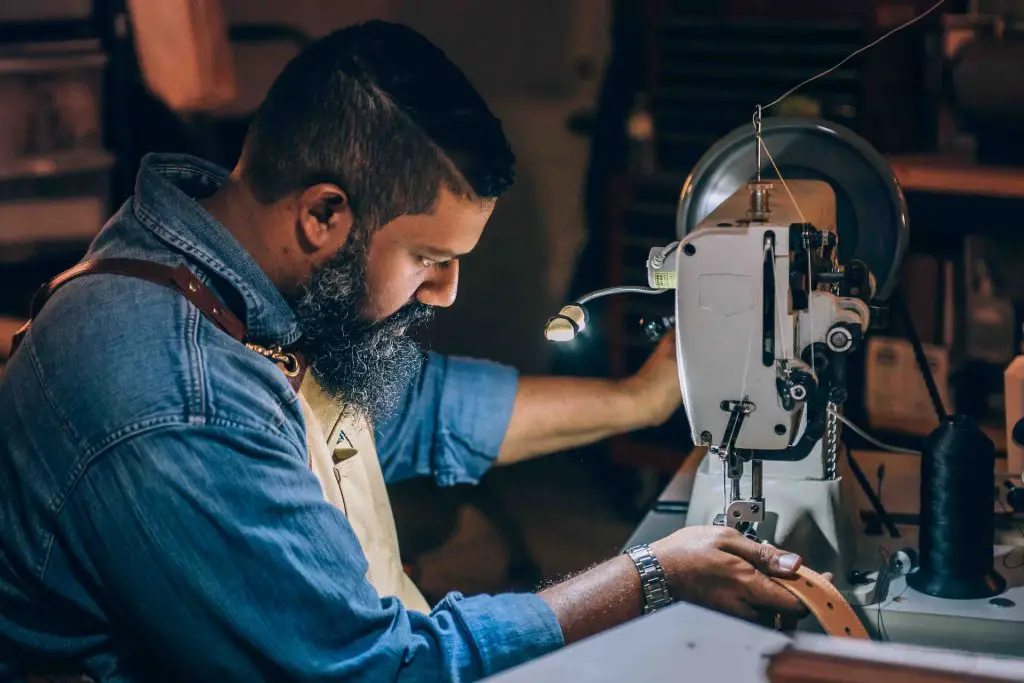 Making and stitching one's own garments promotes self-reliance, ownership, and control, all of which contribute to personal fulfillment.
Having fun and achieving fulfillment in learning a new skill is essential. 
The study founds that contentment comes from the increased use of the cognitive ability in learning to sew and then making their own creations. 
Many learners start a home sewing business, which provides a flexible and secure method to earn money while doing what they love!
7. Learning Sewing at Your Own Pace
You won't become an expert tailor a week after learning the basics, but you may grasp the principles and complete your first project within two weeks.
If you're a beginner, you can learn at your own pace while checking out free or paid online sewing lessons.
Alternatively, you spend more time on online lessons or set more frequent appointments with a tutor or a coach to learn fast.
Keep in mind that an occasional break prevents you from losing patience with your work and allows you to stretch, refocus, and find new inspiration in this skill!
8. Easy to Lose Focus and Procrastinate
It's easy to lose focus and get distracted when learning something new. 
Suppose you take an online sewing class. You'll need to exert mental effort and maintain your concentration by sheer willpower.
In many cases, beginners lose motivation and concentration as no one is watching their work. Additionally, there are no time constraints, so they may put it off for as long as they choose.
As a result, the more they put it off, the more likely they will eventually lose interest. 
After all, getting sidetracked in the comfort of your own home is entirely normal! We recommend joining online communities and learning with others to maintain your motivation. It could also be as simple as setting a personal goal and keeping track. 
9. Sewing Can be an Expensive Venture
There are some drawbacks to sewing on your own. Due to the small scale of operations, the costs can be high when sewing just a few items rather than purchasing them. 
For instance, our work could be for nothing if there is a mistake in design, patterns, poor cutting, or the piece of cloth ends up being longer or shorter. 
In that case, you could waste valuable time and materials producing your clothes, inadvertently resulting in a loss of time and money. 
10. Turning your Sewing Skillset into Income
Sewing as a hobby allows you to try out new things and gives you the creative freedom to make a quilt, pieces of clothes, or a bed cover.  
At the same time, many people seek ways to supplement their income, and sewing has the potential to become a successful income source with experience and practice.
Using your sewing skills, you can sell your creations locally or online. For example, you might begin by crafting simple items before progressing to making specialized clothing or sophisticated evening wear!
It's important to know that there is high competition, and you must differentiate your products from the rest. Sales and marketing knowledge will come in handy in this situation. 
11. Classes and Sewing at Home
Understanding the terms used in sewing is the first thing you should accomplish. Afterward, begin to learn how to sew at home.
Study, practice, and experiment. Using simple sewing tools, start with a small project while watching tv, brewing your coffee, or even doing your laundry.
You should also sign up for free online sewing classes such as Skillshare, Udemy, Made to Sew, and Creativebug!
To learn more, you can also see our posts on Crocheting, Quilting, and Knitting.
Conclusion
When you look at the learning curve of sewing and how long it can take to get good even with a fast-track course, sewing is not just a rewarding hobby but also one that pays off if you stick with it.
Once you practice frequently and gain experience, you can easily do so many things by yourself that can become a potential source of income!
With that said, we firmly believe that sewing is worth pursuing. So I hope you'll give it a shot!
Sewing vs. Knitting which one should you pick?