Crocheting, in some ways, is hard. However, if you have an interest, you must pick up and learn how to do it. The more you do it, the better you get at it. Picking up a hook and yarn is one of the most enjoyable activities you can do in your free time.
Is Crocheting Hard?
Crocheting is not highly complex—it just takes some practice. If you're new to crocheting, it might seem challenging at first, but it becomes much easier once you learn how to track where the stitches go on your hook. Crocheting is a craft that involves rules on finishing off edges and corners neatly with a few tight stitches!
Here are some valuable things to consider to help you crochet like a pro. Let's begin!
1. Small Hook
A crocheting technique requires weaving around loops of yarn, thread, and other materials using a crochet hook. 
On the other hand, "crochet" is a French word known as "small hook."
Crocheters notice that handmade projects progress more swiftly after learning the fundamental crochet stitches, such as 
chain, 
single crochet, 
double crochet, 
treble crochet, and 
slip stitch.
As you can see, one of the most basic crochet stitches that every newbie must master at the start of their crochet journey is the simple chain stitch!
2. Initial Challenges
Crocheting is challenging, especially when you first learn.
It's necessary to choose crochet projects suitable for one's skill level since it requires a specific time and repetition to develop motor coordination skills and muscle memory.
It could go more swiftly for you to get accustomed to the techniques needed for crocheting if you have expertise with other artistic mediums, such as stitching or sewing.
Overall, crocheting will start to come more naturally to you as you strengthen your visual capabilities and muscle cognition, and you'll be able to complete more complex projects!
3. Origins and Popularity
Crochet's historical beginnings were somewhat humble. The first recordings of crochet, referred to as "shepherd's knitting," were made in early 19th-century Europe.
At the beginning of the 1940s, crocheting was introduced into the war effort across Britain and the US. Additionally, women at home contributed by crocheting items for the military.
Currently, the places that favor crocheting include Argentina, San Francisco, Los Angeles, Vancouver, Morocco, and Ireland.
As you can see, crochet represents boho elegance. As we reach the summer vacation every year, crochet is growing in popularity among individuals of all ages, from Millennials to Baby Boomers to Generations Z and Y!
4. Stitching Artistry
Crochet is a stitching skill with a touch of artistry.
For beginners, crafts using essential crochet include minimal shaping and simple forms that use core repetition and structures.
On the other hand, you can use intermediate projects to practice color changes, stitch patterns, fundamental knotting techniques, and line patterns.
It's possible to finish an advanced-level pattern lace jacket with fitted panels after a few months of crocheting.
Meanwhile, it's also conceivable to have been crocheting for decades and producing numerous items without moving past the simplistic pace!
5. Crochet Toolkit
Both hook and yarn are the two items that every crocheter has to have. You can't crochet something if you do not even have these.
Additionally, you should include the following tools in your toolbox: 
a crochet hook, 
scissors or yarn snippers, 
stitch markers, 
a tape measure or ruler, and 
a darning needle.
The upfront cost of crocheting is about $20, and the thread price ranges from $10 to $100 per item.
Acquiring yarn free from pals, garage sales, and discounts are all effective ways to save costs!
6. Crochet Techniques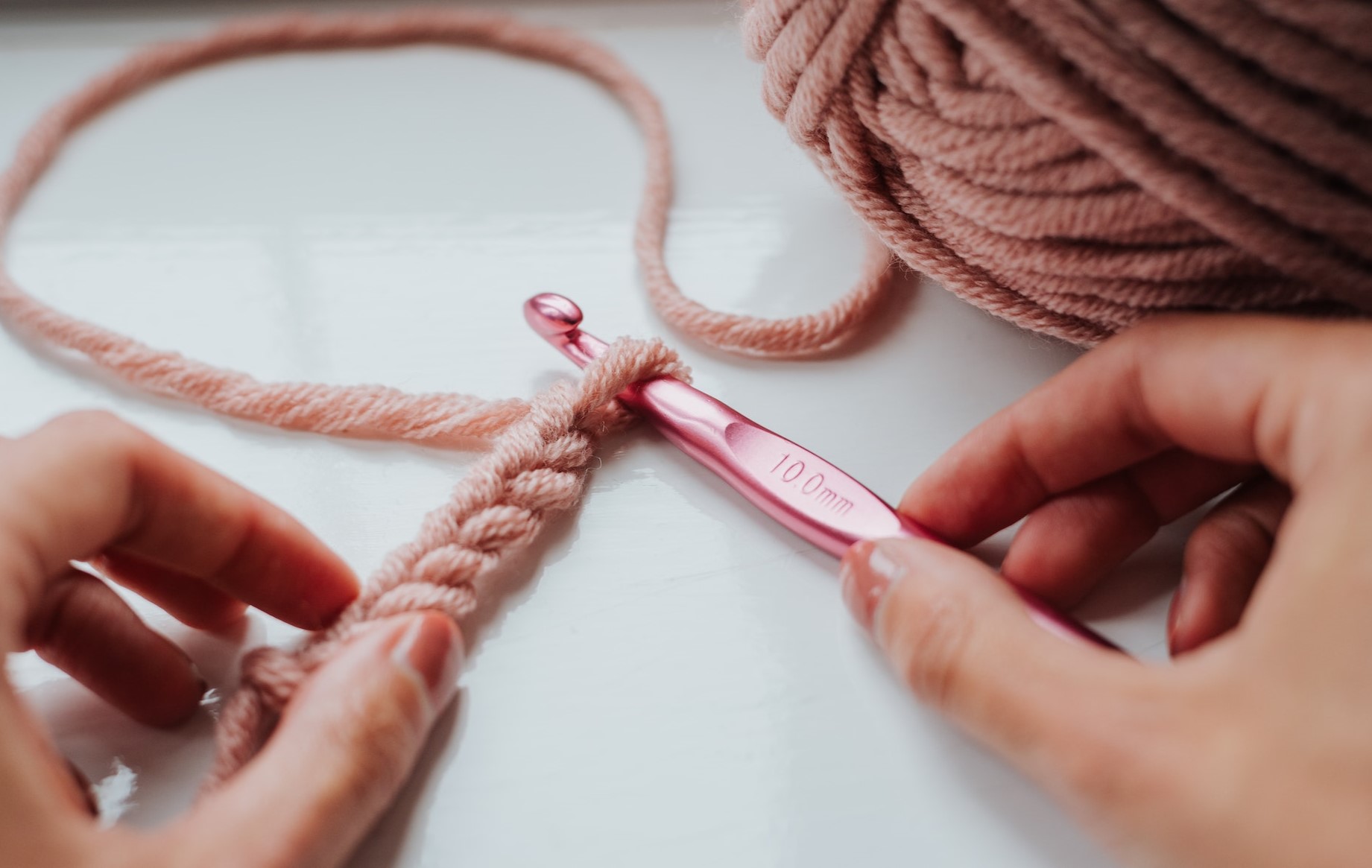 As mentioned above, all you need is a hook and yarn to start crocheting; however, there are beneficial techniques and steps to grasp.
In step one, you learn the chain stitch and understand the fundamental single crochet stitch. Then, you can enhance your crocheting abilities by practicing the double crochet stitch.
Finally, finishing procedures are a core part of crochet. You can utilize the single crochet stitch to make the smallest edging.
You can learn these techniques by watching free online tutorials at websites like CraftBits.com, FreePatterns.com, Crochet Pattern Central, and About.com Crochet.
7. Continue to Practice
If you continue to practice, you could be pretty familiar with the fundamentals in a few weeks or days.
Try crochet each day; even a short 10-minute period will allow your body to become more adapted to the movements and pattern of the craft.
Depending on how much time you devote to learning, it will take you one to three months to grasp the basics of crocheting. 
Then, give yourself six months of consistent repetition with some more complex projects to become competent!
8. Generate Income Using Your Creative Skills
Making something lovely and practical out of crochet is an effective way to show one's creativity.
As a crochet designer, you may typically support yourself by doing online marketing and content production.
Engaging in craft fairs and taking commissions for finished goods will bring in some money, but not sufficient for full-time home-based employment.
However, some also perceive that there are so many beautiful experiences involving crocheting, from discovering new stitches to finding out that it's also a way to unwind!
9. Profitable Business
Earning profit while doing what you enjoy is achievable if you crochet. So starting a thriving crochet business is a good decision you can make.
Crocheting can generate revenue from selling 
Downloadable patterns on platforms, 
teaching crochet, 
developing crochet design, and 
selling your finished products. 
Many people are already successful in this line of work. 
10. Issues and Tips
Most beginners use the same size hook for their chain as they do for the remainder of their creation.
For some professionals, to acquire the appropriate strain for your chain, it is advisable to use a hook that is a little bit larger than the design requires.
Moreover, when beginning a project, some newbies put their hooks in the incorrect chain. Therefore, it is encouraged not to measure the loop on your hook first!
11. Insufficient Understanding of Patterns
In most cases, beginners often misread crochet design instructions.
Other issues include,
diving right into a project
failing to read the directions, and 
then realizing that you have no idea how to accomplish it.
As recommended, you must always understand a crochet pattern thoroughly before commencing. Then, you can learn more information in the design notes section upon starting your project!
To learn more, you can also see our posts on Knitting, Quilting and Sewing.
Conclusion
Though crocheting can be challenging to master, only those who have no interest in it will see it as tedious work. Instead, it's an investment that pays dividends once you start seeking gains from your hobby.
Overall, crocheting is a valuable skill. It's personal, has practical applications, and can be a great craft and business to pursue. But, more than that, it teaches you determination and patience!