Both sewing and knitting are awesome hobbies that allow you to create garments from scratch. While both crafts have unique aspects, they have many similarities and differences. If you're looking for some recreation, sewing and knitting might be two excellent choices. So let's take a look at each of them!
Sewing vs. Knitting: Which Should You Pick?
Both knitting and sewing need the use of fabrics and materials to create garments. Although they both require practice, the two skills use diverse tools. For example, needles and thread are used in sewing, whereas in knitting, yarn is used. They also have multiple styles and different creations. Lastly, knitting requires more hand movement, whereas sewing can be self-threading.
Sewing is the technique of stitching a drawn line with a needle and thread, whether by hand or on a sewing machine. Sewing examples include creating custom-fitted clothing and bed linen from fabrics.
Knitting is the method of joining overlapping loops of yarn or thread in patterns of knots with a piece of machinery or special needle to produce clothing textiles.
At first, these skills seem like complete opposites. Let's examine their similarities and differences and how you can get started!
Similarities
You can knit or sew depending on what you're searching for in a craft project. Let's explore how respective professions are identical.
1. Materials and Fabrics
Both knitting and sewing result in a tangible product, typically clothing. 
In both skills, you can pick a pattern you know you'll enjoy wearing, select a fabric you can work with, and begin modifying the design.
In sewing, you'll learn how to cut your pattern to add and remove pieces from a current design to alter the curve of a skirt or the neckline of a blouse.
At the same time, knitting is so natural. You can produce your garments while watching TV, conversing, or doing other things without thinking.
Overall, making your garments from scratch is comparable to both skills!
2. Requires Practice
Numerous practice sessions are necessary for sewing and knitting. 
Therefore some finishings and stitches will take longer to perfect than others. 
When sewing a garment, try it on a model and make any necessary adjustments on the pattern pieces before worrying about zippers, facings, and under-stitching.
On the other hand, in learning to knit, multiple techniques require hand-over-hand for learners, the knitting rhyme for audial learners, and a demonstration plus a printed version of the rhyme for visual learners.
Overall, having someone else demonstrate for you is the most incredible way to make learning to knit and sew simple!
Differences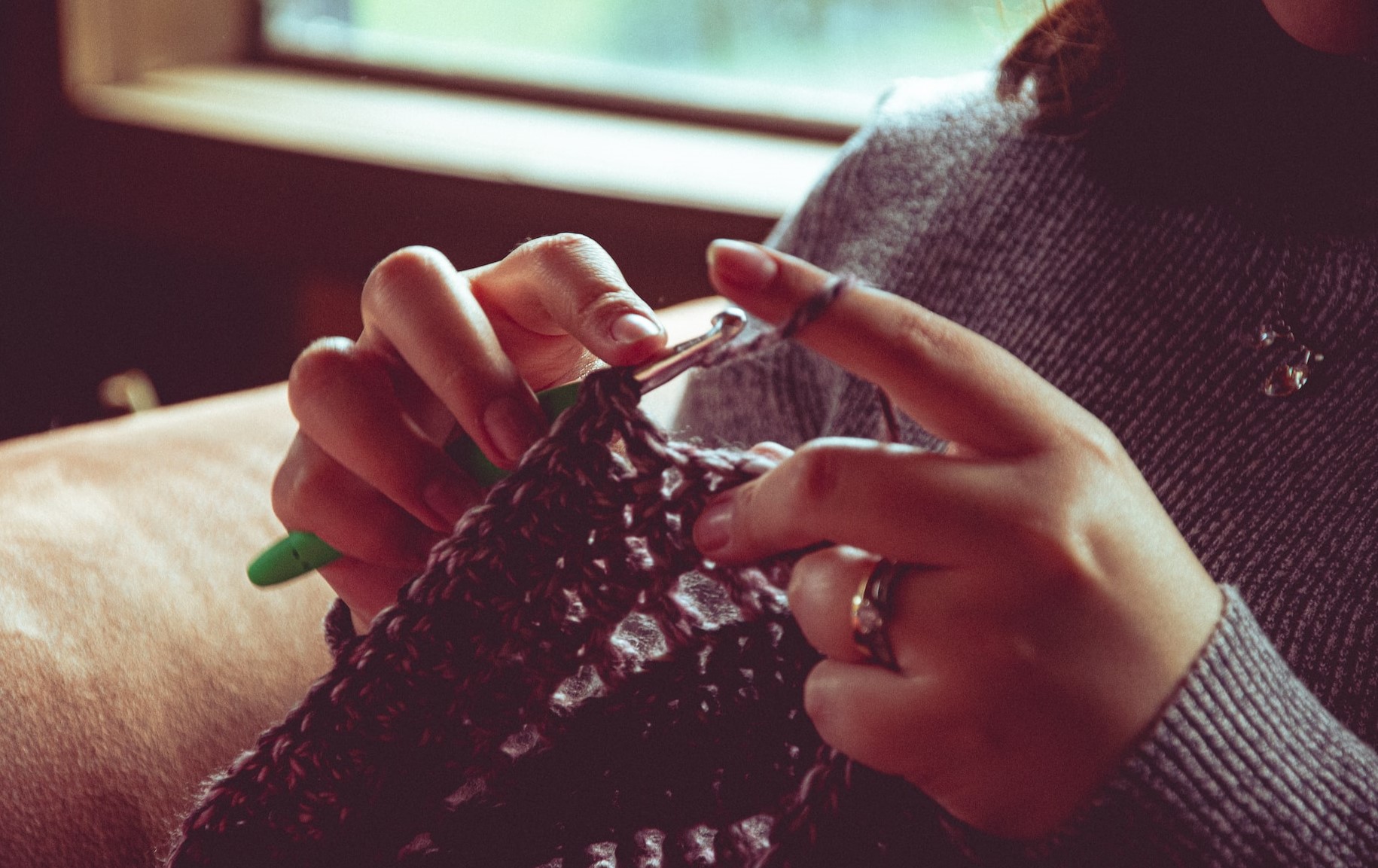 As you can see, differences between knitting and sewing become increasingly evident as you dig further into each craft. So let's check it out!
1. Set Of Tools
In sewing, the following tools are necessary, 
pins, 
a tape measure, 
marking chalk, 
a seam measurement ruler, 
scissors
a pin cushion or magnet, 
various threads, 
various needle sizes, and 
an ironing board
And even though it is not required, a sewing machine is an excellent addition.
On the other hand, knitting needles are necessary to begin knitting. Other essential tools include,
straight, circular, and double-pointed needles 
scissors, 
measuring tapes, 
stitch markers, 
stitch counters.
Knitting and sewing are two distinct crafts that use different sets of tools and equipment that resemble one another.
2. Potential Creations and Learning Curve
When it comes to sewing, some favor gridded Pelon to cut out master patterns from multi-sized sewing patterns. It is lightweight, strong, and transparent, marking lines and pattern details simple. 
While some consider learning about a quillow, it's a simple blanket that one can fold into a cushion, and many people adore it.
On the other hand, wool yarn works well for many knitting projects, such as blankets, scarves, caps, mittens, and sweaters.
In the knitting technique, some knit with two strands for a few stitches so that there won't be anything left behind to weave in after the product.
While one can use knitting and sewing to fabricate various items, it is reasonably clear from the finished product which method was used.
3. Skills and Experience
The fundamental mechanical skills of sewing don't require a lot of study or experience. Still, sewing machines can be pretty sophisticated, and it takes time and practice to learn to troubleshoot.
With knitting, you may begin a project with a skein or ball of yarn, a free design from the internet, and a pair of knitting needles. So, knitting is more straightforward in terms of equipment and start-up costs.
Above all, it is calming to knit. However, it is repetitive, especially at first when you are learning and need practice. 
While sewing, you'll need to understand a few fundamentals before getting started!
Conclusion
As demonstrated, the primary distinctions between knitting and sewing exist in the equipment required for each craft and the stitching methods. Both techniques require threading the needles, threads, and yarn.
Ultimately, simply practicing is the best way to understand the ability and how to use the tools. Therefore, you must test both to discover which you prefer. Or you might realize that you enjoy each or that needlework is not for you!