Food science is usually associated with an extensive career area within food technology that deals with product formulation and development and creating innovative recipes.
In a world where food is a necessity, the idea of being involved in creating and developing it sounds like a great career path. Well, it can be. If you are interested in science and food, you'll find the information below essential to your research.
Is Food Science a Good Career?
Food Science is an excellent choice as one of the main benefits of this career is the competitive salary offered by the food science industry. If you choose this path, you may find jobs no matter the state of the economy. Food Scientists are addressing the global food shortage and developing new superfoods. Most significantly, experts in this discipline have a foundation in culinary innovation and a passion for research and science-related topics.
Let's look at the thirteen things you can expect. Tune in!
1. Competitive Salaries in Food Industry
A degree in food science is highly advantageous and leads to numerous opportunities to earn the highest earnings.
Currently, most Food Scientists' salaries fall between $60,000 and $90,500, with top earners earning an average of $120,000 annually across the United States.
Furthermore, there may be numerous prospects for progression and better compensation based on skill level, region, and years of experience. 
Generally, dedicated students may expect these kinds of salaries and benefits, such as pension plans, health insurance, paid holidays, and vacation leaves!
2. Food Science is a Mixture of Food, Technology, and Science
One of the many aspects that scientists find fascinating is their ability to use technology to develop better, safer goods. 
For example, they manufacture items like meat, pressure systems that eliminate bacteria, and freezers that cool fish so effectively you can have the best sushi in town.
Because of science and technology, they can perform these things, and future developments are boundless. As a result, scientists and their research helped us retain food and flourish as a society. 
3. Requires a Degree and Additional Qualifications
Food science is a multidisciplinary branch of study that integrates chemistry, microbiology, engineering, and nutrition to create novel food items and methods.
On the other hand, experts advise gaining hands-on experience in the food sector through an internship at a food company while studying food science.
Through this, the typical entry-level certification in food science is a bachelor's degree since it increases employment prospects.
Therefore, students may also take a master's or doctoral degree upon graduation if they want to level up as research and development food scientists!
4. Research and Development Expertise
Food science is a type of work that involves discovering how to make food sources safer and more nutritious and improve the quality of food.
In this career, you will be able to develop new ways to ensure that your food is protected, healthy, and tastes good.
Additionally, you will likely have some training in research and development at the university because this is often one of the first steps in developing new products.
Above all, as food scientists, you'll be able to use your nutrition knowledge to develop new technologies that improve the quality of our food supply!
5. Laboratory and Fieldwork in Food Science
In food science, you will gain a wide range of skills that employers highly demand.
In line with this, students might work in a commercial kitchen, processing plant, or food safety laboratory. 
As well as that, food scientists are responsible for the production, distribution, and marketing of foods from sources such as farms, factories, and grocery stores. 
Because of that, some employers prefer candidates who have had experience in a lab setting or working on projects related to their field of study before taking an entry-level position with them!
6. Alternatives Career Opportunities in Food Science
With a degree as wide as food science, there are so many diverse alternatives available that choosing the proper profession might be overwhelming.
One of these career opportunities is being a food technologist. It functions closely with the production team and will research and create inventive recipes using new and existing products.
From 2020 to 2030, sources predict that the employment of agricultural and food scientists will increase overall by 9%.
Over the next ten years, there will be 4,400 jobs for agricultural and food scientists!
7. Daily Life of Food Scientists 
Food scientists typically put in at least 40 hours a week at their jobs. When enforcing legal requirements, professionals must travel to inspect food processing facilities.
At this time, they typically dress in protective gear, such as lab coats or gloves, and occasionally are subjected to loud noises.
Additionally, you may get benefits like dental insurance, paid time off, and sick days.
They also frequently oversee groups of students or technicians supporting their daily life research and might have to travel to several job locations!
8. Summer and Part-Time Job Opportunities in Food Science
Before they graduate, most undergraduate students in food science work a summer job, part-time employment, or an internship.
In other words, many students take on volunteer positions to earn extra money while still being able to attend school full-time.
It is also often taken at night or on weekends so students can pursue other interests during the day without sacrificing much time away from schoolwork or family commitments.
Food science is a career choice because they know they will have time for their hobbies while working in the industry!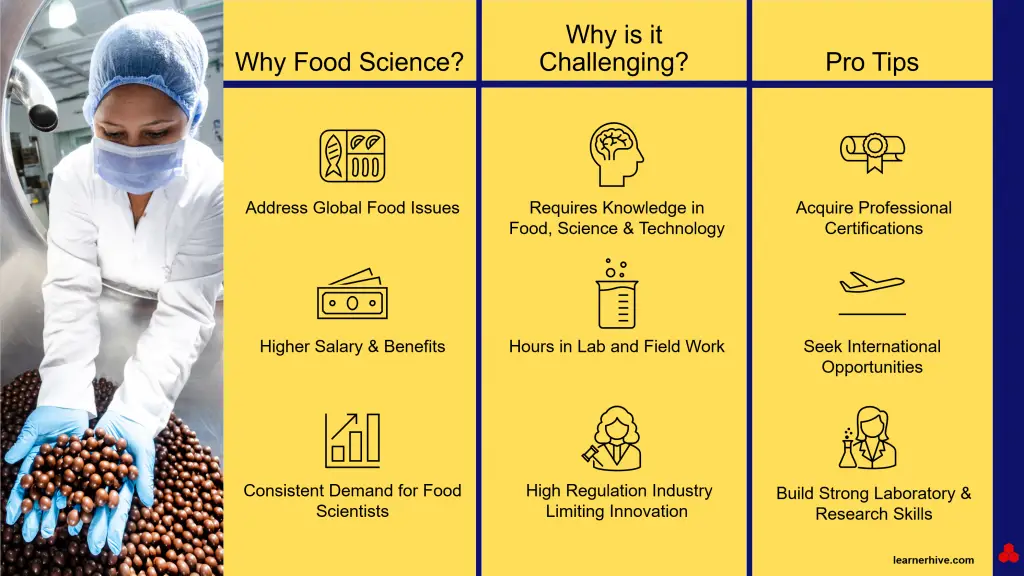 9. Maintaining a Good Diet as a Food Scientist 
A critical duty of some food scientists is to taste food samples daily. And if you love food, you'll unavoidably consume a lot more food.
Without a doubt, if you had a team of scientists that loved food and were willing to try new things, you could be assured that calories should be taken into account!
10. Work Environment in the Food Industry
As a food scientist, you will generally work in a cutting-edge indoor environment, using the latest technology and various ingredients under strict guidelines. 
Moreover, it's also possible for someone who works in food science to become a consultant for companies like McDonald's or Coca-Cola. These companies need help developing new products or new ways to market existing ones.
Generally, these companies are all about ensuring that their products are safe for consumers to eat, so they hire scientists with expertise in food safety!
11. Global Career Opportunities for Food Scientists 
Food is something we all share, regardless of our backgrounds. However, if food science is your area of expertise, you know that food is much more than sustenance.
You can work with food at the molecular and organic level and have a global perspective if you land a position in food science abroad.
Ultimately, the job market is quite competitive, but because there are so many opportunities, the competition is typically not as fierce as it might be!
For instance, employers in Canada place a high value on graduates with a background in food technology.
Because of this, the food business employs more than 290,000 people, making it Canada's third largest employer, which starts at 30,700 CAD and can reach 90,300 CAD.
12. Improved Attention to Details
When you have attention-to-detail abilities, you carefully examine your work to find and fix mistakes, identify and strengthen weak areas, and produce a nearly faultless product.
For food science professionals, paying close attention to the details entails completing the task at hand accurately, which involves working to improve food preservation techniques and delivery methods.
As an outcome, whether you're working in a production or laboratory, you'll have the chance to use this skill and knowledge in real-life situations!
13. Addressing Global Food Shortages Using Food Science
Food Scientists have a great opportunity and responsibility to enhance future nutrition. 
Most scientific journals and research papers predict a future of global or regional food shortages. However, with technology and research, scientists can enhance the quality and quantity of food. 
Thus a career in Food Science can be a gratifying venture. 
To learn more, you can also see our posts on Horticulture, Tourism Management, Astronomy, and Biomedical Science.
Learn more on how to become a food scientist?
Conclusion
Indeed, food science is one of the most exciting careers in the world, with many opportunities for growth and advancement.
After all, the food science field is a great place to start your career. It can be an excellent fit for students who enjoy working with their hands and staying up on the latest trends in the food industry!