Web development is an excellent career for someone interested in new audiences and technology. It is a constantly expanding field with the potential for many opportunities to enrich your life.
While the world is changing incredibly fast, being a web developer is becoming increasingly challenging. So, let's find out if a job as a web professional is the best fit for you with this helpful guide!
Is Web Development a Good Career?
Web Development is a promising career because of its lucrative compensation rates, the possibility to work from anywhere, and outstanding work-life balance. As a web developer, you will be in charge of creating and sustaining the content on a website, including developing and maintaining the code, ensuring it functions appropriately, and creating new designs. Furthermore, it's considered a promising career because of the opportunities for further education, which often come with easy-to-learn certifications!
If you're wondering about what's in web development, I've got 13 solutions for you, so tune in!
1. Competitive Salary in the Web Development Sector
Glassdoor estimates that the highest-paid web developers earn $111k annually. So even at the low end of the scale, juniors might still earn $44k.
At the same time, the average compensation for a backend developer is around $100k per year, while a full-stack developer can expect to make $90.5k annually.
In addition, being able to work from any location as long as you have a laptop and an internet connection is one of the main benefits of being a web developer.
You can choose your technical niche, develop new skills, or learn new languages to help you become more specialized!
2. Web Developers have Curiosity in Internet and Technology
Web development is a sought-after career choice for people who want to work with high-tech tools and in a creative field.
As well as that, people in this field tend to be clever and innovative, always looking for ways to improve their web development skills.
So, if you are interested in the internet and technology, this is a great career. Web Developers are tested and surrounded by great individuals working to solve challenges.
Therefore, when deciding whether working with code suits you, consider your enthusiasm, creative flexibility, and tech curiosity!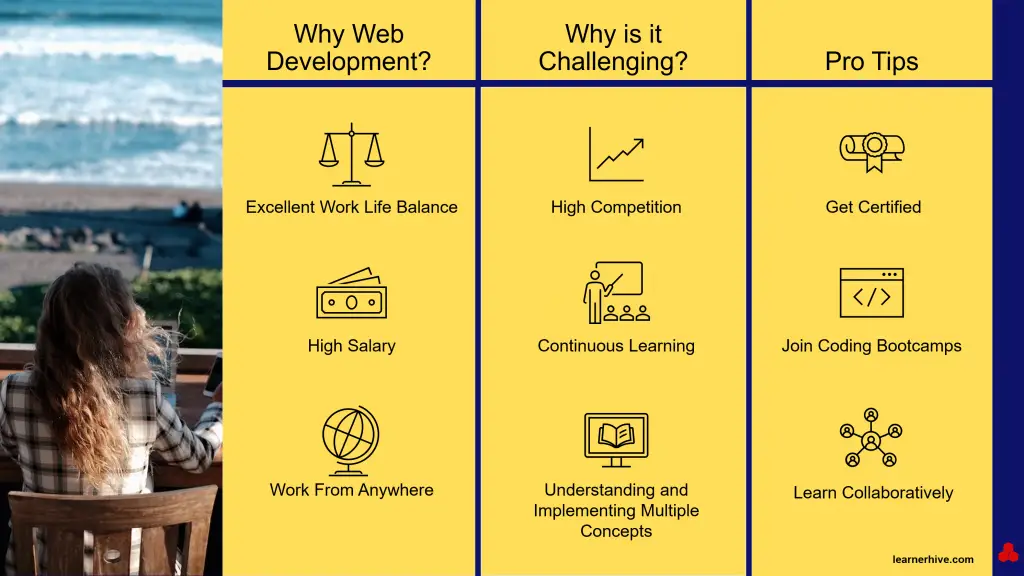 3. Associate Degree and Certifications in Web Develoment
Web development associate degrees assist tech-savvy professionals in quickly launching their careers. 
At this time, these two-year courses instruct students on the usage of programming languages, the application of design principles, and the creation of web applications.
On the other hand, a certificate can be earned in a short amount of time and provides long-term advantages for the holder.
Generally, the cost of a web design certificate is reasonable, given that students can attend online courses!
4. Understanding Adaptive Design Abilities
Understanding responsive design is a crucial skill if you work as a web developer.
Most of the time, because many people browse web pages online and on mobile devices, the websites you develop need to be responsive to shifting screen sizes.
For example, you won't be able to use your website on a desktop or a mobile device if it is not receptive. 
As a result, knowledge of responsive design is one of the critical abilities you should learn as a web developer to avoid screen display glitches!
5. Coding Bootcamps for Web Developers
Aspiring web developers now use coding boot camps to accelerate their learning. 
Coding Bootcamps are brief, immersive, and focused on results and employment, and because of these, coding boot camps have thrived.
Additionally, they aim to build job-ready abilities as quickly as possible, making them an increasingly worthwhile acquisition for aspiring web developers.
According to Indeed, four out of every five businesses in the United States have successfully employed coding boot camp alums!
6. Web Admins
You can find employment in this industry as a webmaster, helping companies maintain their online presence by keeping websites appealing and helpful.
Furthermore, these experts assess the website's functionality across various hardware, browsers, and operating systems. As a result, web admins are flexible because they know the website and server upkeep.
Due to the above, the Bureau of Labor Statistics projects a 15% growth in demand for web developers in the following years.
Unsurprisingly, the tech industry continues to place a high focus on hiring knowledgeable and certified IT professionals!
7. Conventional Work or Independent Freelancers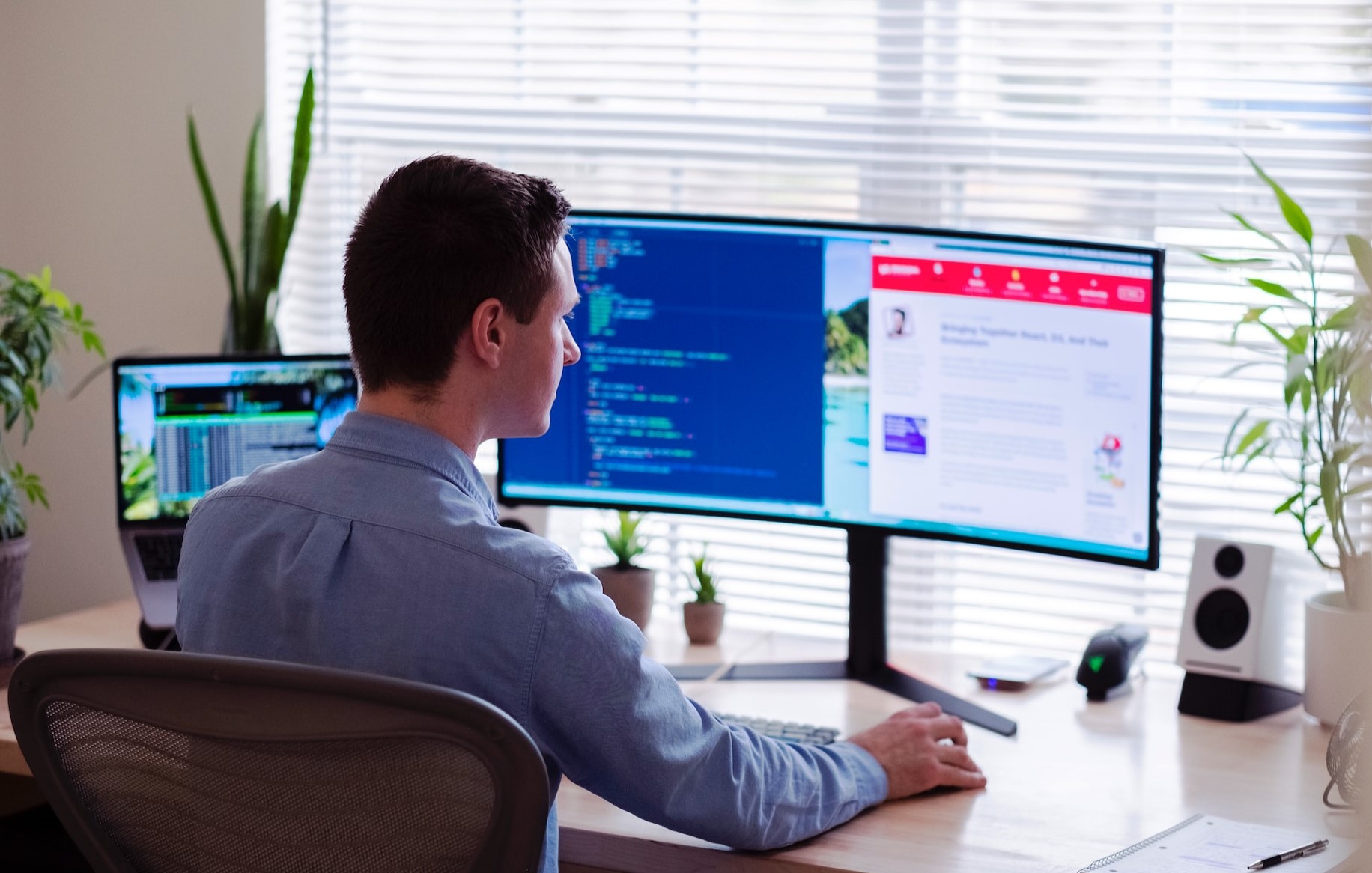 Web developers typically do their work in cozy offices or labs. They put in roughly 40 hours a week, though they might need to work some nights or weekends to fulfill deadlines.
As well as that, most employers of web developers provide them with health and dental insurance, vacation, sick leave, and retirement programs.
Apart from this, web developers can work individually with clients as independent contractors and freelancers.
At the same time, full-time, on-site positions are also available for IT experts in digital agencies for those looking for more conventional work!
8. Work-Life Harmony as a Web Developer
Current developers claim that web development is enjoyable and creative. 
As an outcome, software developers and web developers are among the top 10 professions for work-life balance.
Through this, employers provide attractive employment packages with incentives that support work-life harmony, like more paid time off.
Furthermore, there have been substantial developments in flexible work arrangements in the tech sector, including remote work and flexible hours!
9. Computer Vision Syndrome
A typical software engineer sits in front of a computer for at least eight hours each day, exposing their eyes to several digital screens.
Because of this, programmers frequently become so engrossed in their work that they even forget to blink, leading to discomfort and vision problems.
Ultimately, the risk of developing Computer Vision Syndrome is a negative effect of extended computer use for web professionals!
10. Web Developers can Work from Home
Working whenever and wherever you choose is likely the most significant benefit for a web professional.
Aside from that, if you are an experienced web developer, you may choose how many hours you would generally spend working on a project each day and pace it accordingly.
Keep in mind that if you are starting as a freelancer, clients may contact you at unusual hours of the day or night.
In this situation, you must be adaptable to meet their needs, especially if you are still developing your freelance career and portfolio!
11. Digital Nomad
As a web developer, you can initially work from a distance. You can still manage a prosperous web development business no matter where you are.
By doing this, you can pursue your lifelong desire for global travel without sacrificing the stability of a steady career.
In most cases, you are not reliant on client work. Instead, you can quickly turn your newly acquired abilities into websites and web applications that will generate revenue.
Finally, having complete control over your work schedule, location, and partnerships enables you to include travel into your life as a digital nomad!
12. Web Developers have Ultimate Mobility 
A remote web developer position has been one of the most popular employment in the modern workforce for the past decade.
For many people, remote web expert jobs provide the ultimate freedom. All you need is a laptop and an internet network connection to get started.
Aside from that, you can work from any whereabouts, including your house, a nearby coffee shop, or a favorite getaway location.
After all, web developers are no longer required to relocate. Instead, they can rely on a solid portfolio and reliable references to sustain themselves!
Learn more about Programming.
13. Collaborative Learning in Web Development
Collaboration is one of the most outstanding concepts developers and designers deal with when creating a website.
In line with this, developers and designers frequently face challenges, including endless email chains, boring Zoom meetings, and failing to follow up.
In doing this, the team should follow the professional's recommendations as they discuss each possibility.
Undoubtedly, it will be perfect for taking extra measures to make sure that remote web development collaboration is on point, such as spending the time to learn about your colleague's working methods!
To learn more, you can also see our posts on Digital Marketing, Cybersecurity, Network Engineering, Web Design, UX Design, and Blockchain Development.
Conclusion
Web development will be a good choice if you need something firm that you can count on for a successful career. 
As you can see, it's enjoyable and flexible enough to allow you control over where you work, and the skills you learn will get you job offers wherever you go.
Ultimately, the work is fun and challenging, and your financial freedom is an excellent perk for a sustainable paycheck!
Learn more: is cyber security hard?