A paramedic career demands all the qualities of an emergency medical technician, including alertness, cooperation, and physical endurance.
As well as that, their job is to take over as the primary caregiver and ensure that the patient is safe and has the medical attention they need. Let's go forward to learn how emergency professionals perform and whether you should consider a paramedic career!
Is Paramedic a Good Career?
Becoming a Paramedic is a promising career because paramedics are essential in society. They get paid well and receive many benefits. However, their job is stressful and needs comprehensive training and certification. Paramedics deal with life-threatening situations, and the job also requires compassion for patients. Moreover, paramedics handle multiple tasks and stakeholders during an emergency! Regardless of the difficulty, being a paramedic is highly rewarding. 
If you want a better insight into the role of paramedics, here are 13 notable facts about this job, so tune in!
1. Paramedics have Compassion for Healthcare
As a paramedic, you'll be in charge of making sure that your patients get the highest quality care. 
In this field, you're not just a medic or nurse—you're an advocate for your patients and their needs.
Additionally, paramedics are compassionate toward their patients, which enables them to comprehend their suffering and make appropriate judgments. It also allows them to work at their best and improves patient outcomes.
Paramedics' love for helping others keeps them going every day!
2. Training, Certifications, and Licensing to Become a Paramedic
Paramedics must finish formal training programs offered by technical institutions and universities. 
These courses can span from nine months to two years, sometimes leading to associate's degrees.
According to the licensing standards, all paramedics must hold a valid license such as NREMT (National Registry of Emergency Medical Technicians) to acquire professional credentials.
Therefore, paramedics with certification must meet continuing education requirements to keep up with their licenses!
3. Importance of Situational Awareness as a Paramedic
One of the critical skills a paramedic has to develop is understanding how unpredictable events can be and the ability to deal with the dangers involved.
It requires being fully aware of one's surroundings and mindful of any potential threats to one's health and safety.
Since paramedics usually work in a constantly changing environment, it is best to be book smart and street-wise. 
Overall, paramedics must constantly be receptive to their surroundings and prepared for any situation that may arise!
4. Medical Mission and Volunteering in the Paramedic Sector
Aspiring paramedics typically participate in medical missions where they offer free medical treatment and services, including medical consultations and complete administration of medications.
From this point on, juniors learn that each environment is distinct and that participation and presence are necessary to understand a community's reality and way of life.
Usually, this medical mission lasts between one to eight weeks to provide students with the skills they will need in the city's upcoming real-life scenarios!
Generally, the idea is that access to primary healthcare is a fundamental human right, and they deliver it to the community's residents!
5. Paramedics get Reasonably High Compensation 
A highly satisfying and essential professional choice is becoming a paramedic.
A paramedic can make between $40k – 100k per year. Meanwhile, experienced paramedics can get around $70k – 100k, while junior-level professionals average $40k.
Paramedics who work for fire or police agencies acquire benefits such as retirement plans, vacation, sick leave, and medical, dental, vision, and disability insurance. They may also get 401K matching, employee discounts, professional development, and loan repayment support. 
The benefits and salary increase with continued education and upskilling. 
6. Career Forecast in the Paramedic Industry
By earning further credentials in this field, you can progress from being an EMT (Emergency Medical Technician) to an Advanced Paramedic Practitioner.
These individuals are ranked high as having advanced clinical practice skills in evaluation, clinical decision-making, and diagnosis. 
Additionally, according to U.S Labor Statistics, recruitment of EMTs and paramedics is expected to increase by 15% between 2019 and 2029.
The benefits and salary increase with continued education and upskilling.
7. Working Conditions in the Paramedic Sector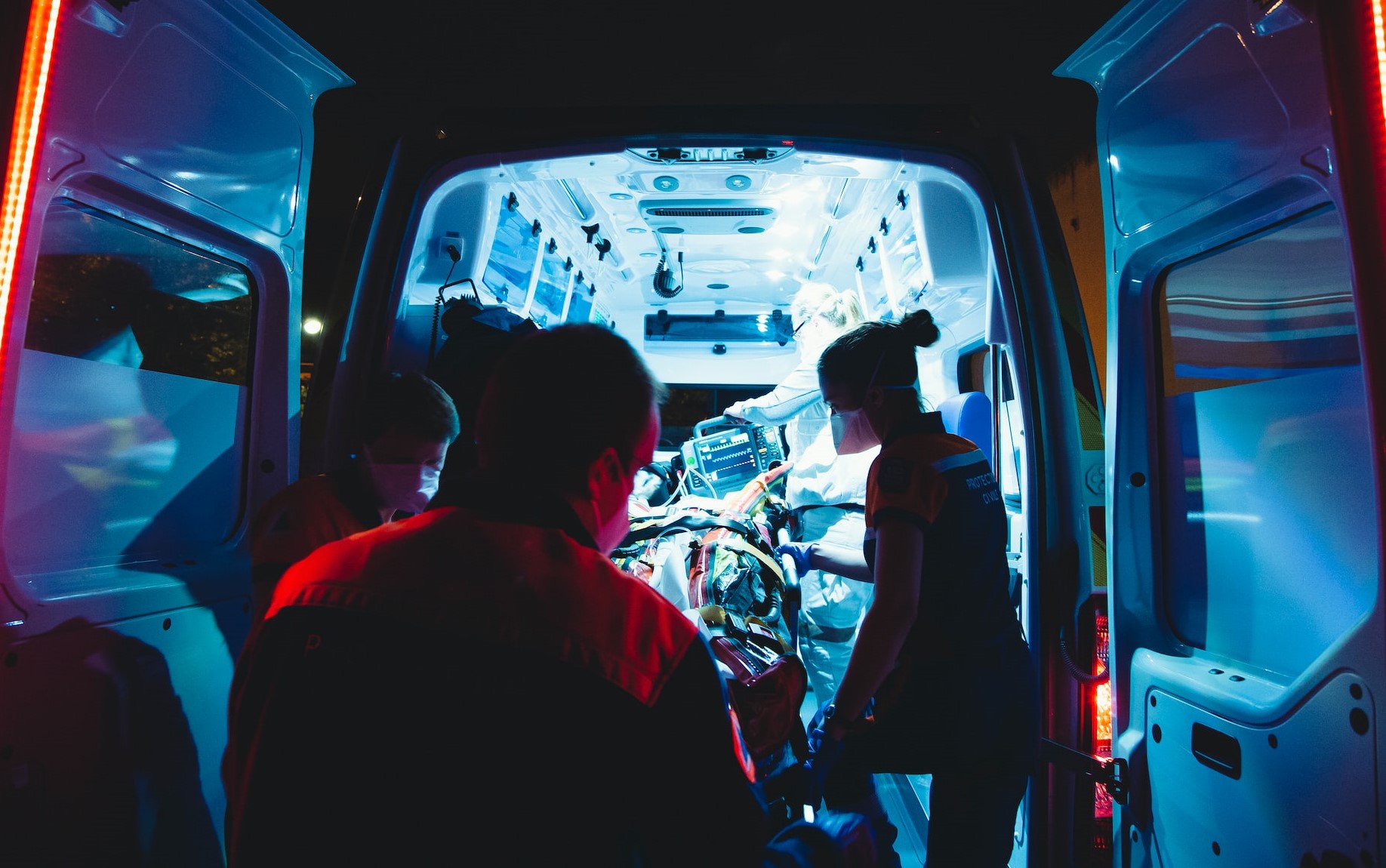 Paramedics work 12- or 24-hour shifts, while some volunteers put in more than 40 hours a week. In these high-stress, life-or-death situations, paramedics routinely work a lot of overtime.
If you begin your day as a paramedic, it's highly likely to start with an ambulance siren's call. They are typically the first healthcare provider to interact with patients in a medical emergency.
Because the work is so physically and mentally demanding, workers frequently burn out, which can lead to shortages.
On the other hand, it's not only stress and demands that come with the job. Medical practitioners also benefit from job satisfaction and 27 days of annual vacation, including paid time off or holidays!
8. Work-Life Balance as a Paramedic
Work-life balance is the unseen casualty of overworked paramedic personnel. But unfortunately, for some EMT employees, work becomes life.
While some paramedics earn six figures over a year by working overtime, they could miss out on spending time with family and friends. 
Because hospitals seek candidates willing to work up to 70 hours each week, longer hours but overtime pay becomes a source of dependency for some.
9. Paramedics may Experience Post-Traumatic Stress Disorder
Because of their employment's stressful and upsetting nature, paramedics experience post-traumatic stress disorder (PTSD) more frequently than the general population.
Research has shown that paramedics and emergency room medical staff have an elevated risk of developing PTSD.
As recommended, a practical strategy is to create a reflective narrative environment where paramedics can share their feelings and experiences about stressful situations.
Also, to pursue this career, regular meditation and developing deep breathing could help with these stressful situations. 
10. Urban and Rural Settings
Both indoor and outdoor settings are viable work options for paramedics. For example, they may respond to residential, commercial, or outdoor crises.
Frequently, paramedics get employed by hospitals, fire and police departments, and private emergency services. 
Since they must attend to all emergencies, many paramedics can expect to work on the weekends and late into the evening.
In essence, EMTs and paramedics work in urban and rural settings in all weather conditions!
11. Travel Opportunities as a Paramedic
It might not be as challenging to find paramedical jobs as you believe. There is a high demand for paramedics in several parts of the world.
One of the best locations to seek paramedic jobs abroad may be companies holding federal contracts with the United States.
You can also consider researching the requirements of specific charitable organizations serving nations like Malaysia, Ghana, and Cambodia.
Lastly, a cruise ship job is an additional alternative for employment for paramedics. Perks usually include accommodation and meals as part of your compensation!
12. Overseas Jobs in the Paramedic Sector
Being a paramedic equips you with abilities valid everywhere in the world. Your capabilities help save lives, which is a necessity that everyone needs.
New Zealand, Singapore, Ireland, Australia, Germany, and the United Arab Emirates are a few of the most powerful nations for paramedics to work overseas.
Canada is an excellent area for paramedics wishing to put their skills to use if they are particularly interested in something closer to home.
Additionally, the United Arab Emirates might be another viable option!
13. Paramedics have Triage Expertise
Paramedics train in triage levels, which involves placing patients in the proper settings to satisfy the patient's medical needs.
Additionally, it permits the assignment of the patient to the best area for examination and treatment.
Paramedics use rationing to distribute scarce resources when called to a situation with numerous injured people.
In the end, to guarantee that paramedics treat individuals with the most critical injuries first, this skill involves quick decision-making!
To learn more, you can also see our post on Nursing.
Conclusion
If you like helping people, getting immediate results, and working in an environment where the stakes are often high, it's a rewarding career.
There's undoubtedly lots of hard work involved. Still, paramedics can generally expect to make a reputable salary, have access to job security and retirement benefits, and assist people every day!