Are you thinking of entering the film industry? Since there is no particular route to success, becoming a filmmaker typically demands putting up effort in unexpected ways.
A job in filmmaking allows an individual to expand their creative skills to manage feature films. Filmmakers are professionals who are responsible for creating diverse movie productions. Here is a breakdown of your possibilities in the filmmaking profession.
Is Filmmaking A Good Career? 
Filmmaking is an incredibly rewarding career choice. It's a demanding industry but one of the top-earning professions in the world that requires no formal education. As a filmmaker, you'll create visual imagery that brings stories to life. In this field, you must be enthusiastic about video and television productions. Finally, there's a chance to launch your own production house.
If you're looking for a career that will leave you feeling enthusiastic, filmmaking might suit you. Let's get started!
1. Visual Creation
Filmmaking is a form of visual creation and expressive art.
It combines various talents, including the art of screenwriting, directing, screenplay, shooting, casting, cost planning, location selection, and aesthetics.
Filmmakers are unique from directors in that they are in charge of every element of a movie's creation. As a result, they might encounter stress from trying to fulfill commitments while doing their responsibilities. 
When filming outdoors, their schedule will generally be irregular, and they can encounter inclement weather.
As mentioned earlier, filmmakers are responsible for every process step, from casting to distribution. In a nutshell, their duties include:
Scripting
Financing
Casting
Coordination
Pre-Production
Production
Post-Production
Release
2. Incredibly Rewarding
Filmmaking careers can be highly fulfilling.
Despite the rich opportunities, these jobs generally have limited job security because of film-by-film contracts.
Salaries, hours, and locations differ depending on the scope of the production and the number of supporting resources. 
For filmmakers, being part of the film world is fascinating and gives a sense of accomplishment.
Working behind the camera may be just as thrilling as performing in front of it, and traveling is another perk.
Finally, it's the opportunity to launch your filmmaking production and help out various artists who share the same passion as you.
3. Top Earning Professions
As of September 2022, the average American pay for film production was $82,764, according to salary.com.
Additionally, a wide range of positions is available in the film industry, allowing you to choose what best suits your talents and interests.
The top positions in the movie business are:
Art director ($93,479 per year)
Producer and Director $101,950 on average, with top earners making over $206,000 annually. 
Screenwriter ($77,473 per year)
Actors, on average, earn $31.31 per hour, with top earners making over $61 per hour. 
Some of the benefits you can acquire from the film industry may include the following:
Interesting way of life
Work that stimulates creativity
Alternative career path
Several opportunities
Medical and life insurance
Travel expenses and paid vacation
Dental Insurance 
Monthly car allowance
4. Competence and Willingness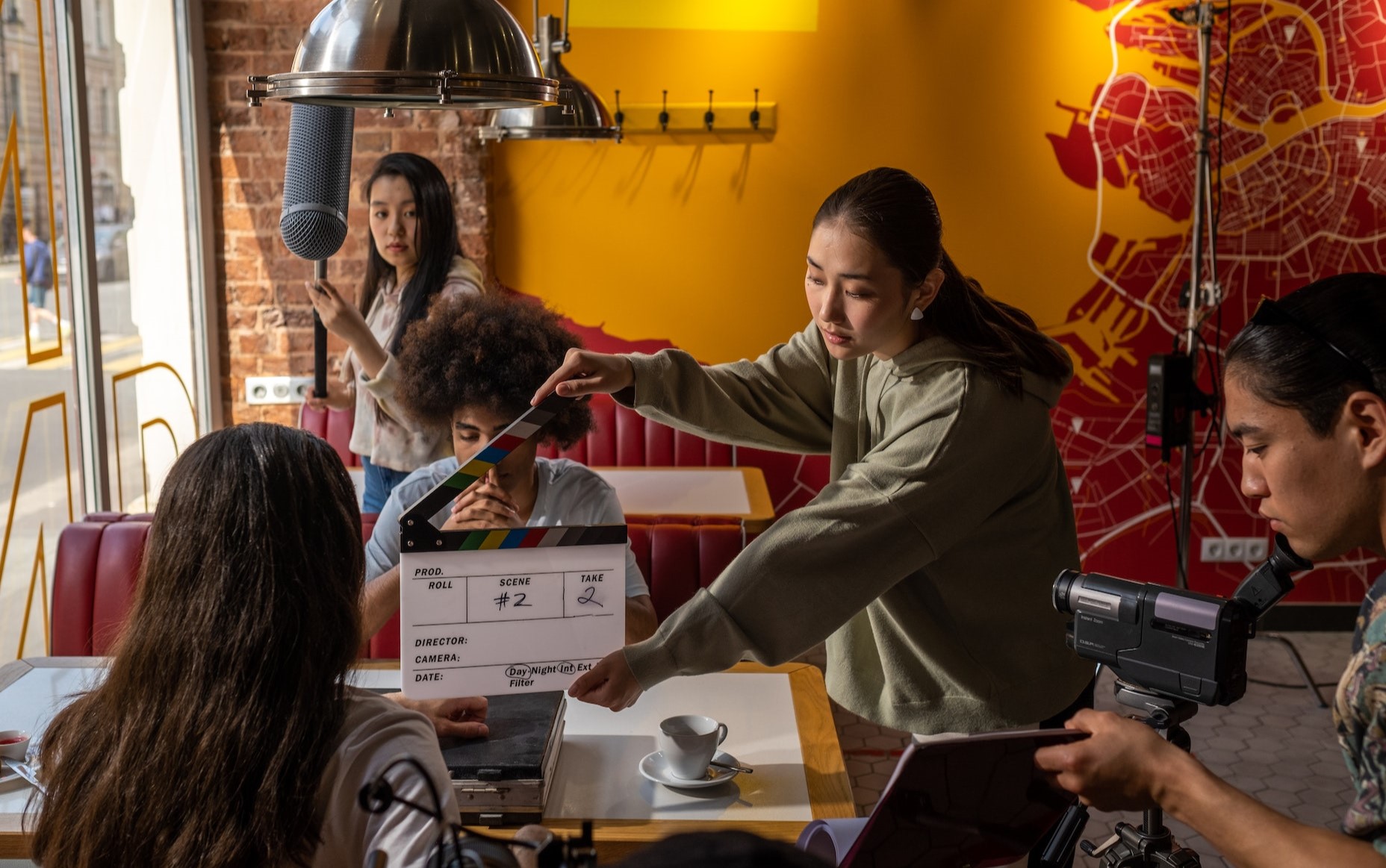 A filmmaker possesses the following qualities: passion, endurance, and patience.
It's more simple said than done to be a filmmaker. Still, if you're enthusiastic about it and know how to perform it, you can continue it as a career.
However, suppose you are one of those individuals who enjoy making films as a pastime and are used to getting compliments about your talent. In that case, this is a clear indicator that you are not just enthusiastic about but also competent in the craft.
5. Qualifications and Education
Although there are no formal qualifications to become a filmmaker, a bachelor's degree in filmmaking and television production is encouraged.
In order to prepare for your profession as a filmmaker, you can take the necessary actions:
Step 1. Finish high school
Step 2. Complete your bachelor's degree
Step 3. Search for an internship
Step 4. Make a short movie
Step 5. Gain experience in the film industry
Step 6. Create a professional network
You can also improve your knowledge and abilities by taking filmmaking courses and earning certificates online such as,
Explore Filmmaking: from Script to Screen
Advanced Filmmaking Techniques
Making It: From Script to Screen
Film Production
6. Technology Savvy and Skills
Learning technology in this profession involves realizing how essential it is to edit, create special effects, adjust color shades, and use visual content.
It would help if you also were mindful that it is necessary to have considerable technical expertise in filmmaking technology. Specifically, using software such as
Studio Binder
Gorilla Software Scheduling 7
Dramatify
Celtx
Yamdu
Additional skill sets for this profession includes:
Sound recording and editing
Cinematography
The Art of Screenwriting
Multitasking
Drone-based shooting
Presenting Graphics
Overall, learning the craft of filming is fundamental. Over time, you should become an expert in post-production, special effects, illumination, audio, and camera techniques.
7. Starting a Filmmaking Career
On movie sets, there are three ways to find employment:
Recommendations
You make your application using employment networks or online ads
Using a staff dictionary or a trainee placement
Most people start their careers in the film with entry-level jobs. This covers working as a trainee or production assistant, commonly known as a runner, camera trainee, or sound trainee.
Finally, there is always the opportunity to develop movies and screenplays independently. Others got their start on a budget film set.
Short films, student projects, corporate work, conventions, and full-time company employment all count as professional experience on the set of a movie.
To learn more, you can also see our posts on Video Editing, Singing, and Acting.
Conclusion
If you like the idea of filmmaking but are still determining whether it's an excellent career to pursue, keep these points in mind. 
Looking at the world from a purely financial perspective, it can be easy to see how filmmaking could be a profitable profession. 
However, when you look beyond that and consider the personal benefits, there is plenty of room for growth and advancement!