Are you considering joining a Zumba class for fun and exercise, or are you interested in starting your Zumba fitness class? 
Well, you have made an excellent choice. It is not that difficult to get started doing this workout as all you need is music and your exercise clothes.
Zumba is a fitness program with upbeat music that can help improve your heart health, maintain an excellent respiratory system, and even helps you de-stress. You only need to decide when you're going to take the plunge. Let me help you with these facts!
Is Zumba Hard?
Zumba is an easy and fun aerobic fitness class that uses various dance movements and music to create an exciting workout session. This combination makes it easy to adapt to your goals. In most cases, participants consider it a great way to combine fitness with fun. And if you're new to exercise, it might help you get into the habit of enjoying yourself while working out!
Here are the 11 details you can expect while learning Zumba. Let's get started!
1. Zumba is an Aerobic Fitness Program
Zumba is an excellent cardio workout blended with an aerobic exercise that alternates between high- and low-intensity periods.
Cumbia, merengue, reggaeton, and salsa are the four fundamental rhythms, and each beat consists of four critical steps.
Moreover, there are several kinds of Zumba classes. For example, Zumba Toning uses weights to build the arms, legs, and glutes, while traditional Zumba focuses more on core stability.
Some participants claim that working out on Zumba resembles a party rather than a trip to the gym!
2. Zumba is Easy to Adapt 
In Zumba, it's not hard to adapt and conquer the dance routines. Regardless of age, weight, or fitness level, anybody can learn and love dance skills.
In addition, no prior dance experience is necessary for Zumba lessons. However, those with a strong sense of rhythm might take up the techniques more quickly.
It's easy to join the Zumba sessions even if you don't know how to ballroom dance or have fantastic salsa moves. Therefore, this fitness program embraces the notion that you can pick up new activities as you progress through the courses.
Overall, people of different ages, weights, and levels of physical fitness can enjoy and benefit from Zumba. It is a great way to increase your confidence, meet new people and have fun!
3. Zumba is a Combination of Fitness and Fun
Zumba was created in the middle of the 1990s by choreographer and fitness instructor Alberto "Beto" Perez from Columbia.
In 2001, he communicated with Alberto Perlman and Alberto Aghion. Together, they came up with the dance style "Zumba," which is now well-known worldwide.
Because there are so many hip and midsection body movements in Zumba, they see it as an excellent way to increase flexibility and strengthen the core.
Even though Zumba fitness may look like fun and celebration, research shows it is a very efficient workout!
4. Inspired by Latin Dance, Zumba as an Overall Workout
Zumba is a cardio-based workout that also includes Latin-inspired dance moves.
As they show up in fitness gear to body-roll, fist-pump, and booty-shake, many students encounter Latin music and dancing for the first time.
You can choose to practice Zumba once or twice a day. However, you burn 500–800 calories without feeling like you've exhausted yourself during each Zumba class.
Each participant concentrates on moving their body as quickly and efficiently as possible. Simply put, Zumba exercises all of your body's muscles!
5. Zumba Workout Attire
If you plan to participate in a Zumba class, be prepared with your most comfortable workout attire, low-top shoes, a water bottle, and a towel.
Remember that you might manage just fine in your regular running shoes and plain t-shirts, without spending anything.
Additionally, it would help if you ate something light and healthy before your Zumba class to fuel your body for the workout.
6. Many Benefits of Zumba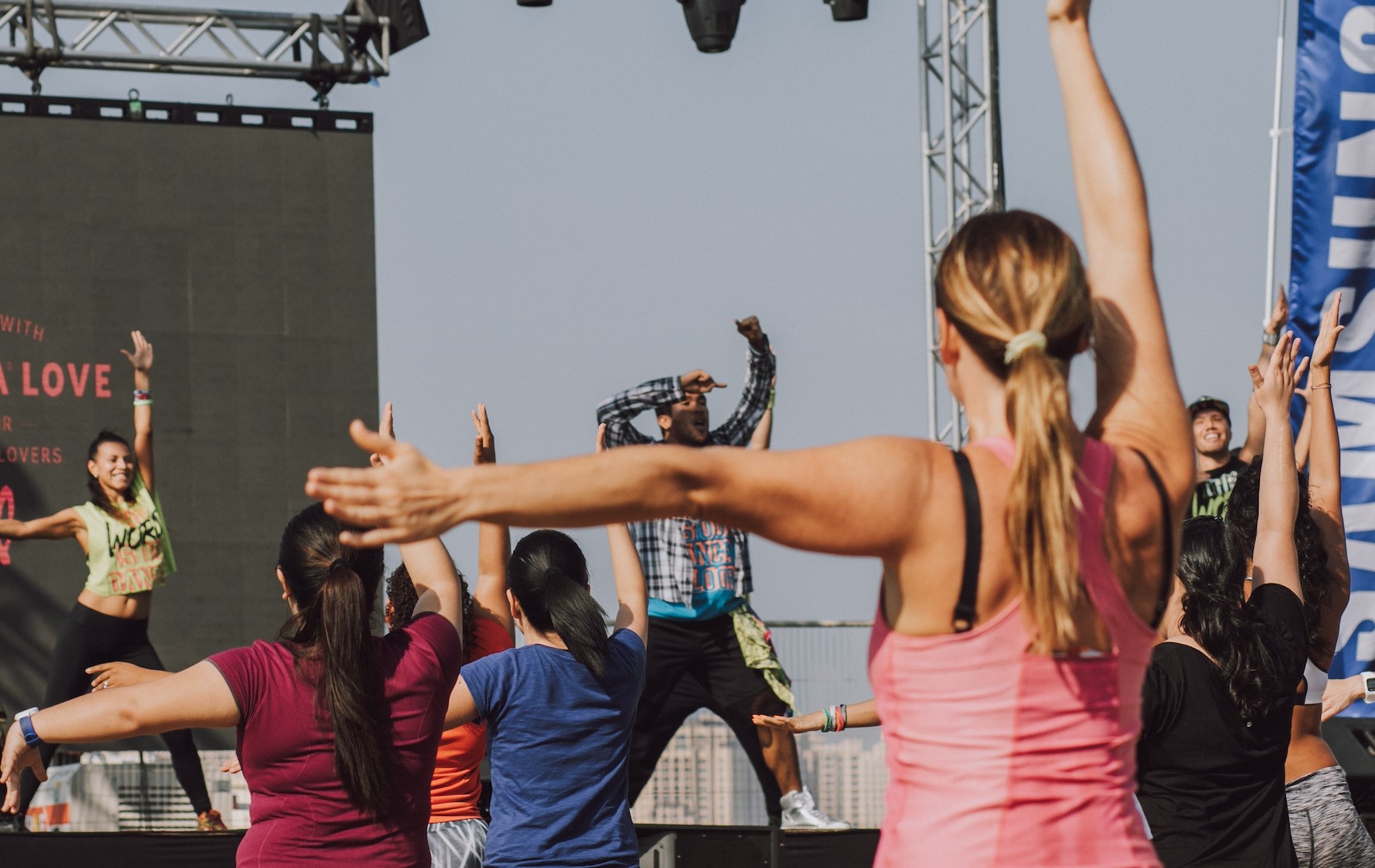 Some Zumba students are determined to lose weight and tone their bodies entirely.
Nevertheless, some people choose these engaging activities to strengthen their pulmonary and cardiovascular systems.
While for others, Zumba serves as a means to unwind, such as reducing fatigue, boosting alertness, and improving cognitive performance.
Lastly, they see it as a fun and healthy hobby that lets them eliminate stress!
7. Joining Zumba Classes
You can participate in fitness sessions from instructors worldwide whenever you choose by streaming from your PC, tablet, or smartphone.
Some free Zumba classes online include Zumba Max, Liveloveparty.tv, 305 Fitness, and Zumba Fitness Concert Live.
Additionally, you can also participate in in-person Zumba lessons, which often cost $5 to $25 each, while online Zumba classes are free or about $15 per class!
Streaming your preferred routines online may begin your Zumba journey without specific equipment.
8. Zumba Training and Practice 
Zumba coaches advise beginners to work out twice a week so that their body and mind can learn to remember routines and will be able to build strength and stamina.
Remember that this workout exercise is best done between 2 pm and 6 pm when body temperature is at its highest. 
Above all, like any other fitness program, it's essential to alternate your aerobic workouts with strength training and rest days!
9. Remembering to Hydrate During Zumba Sessions
In Zumba, there is a short choreography to follow. 
However, you may go an hour without taking a sip from your water bottle. So it makes sense that you'll feel thirsty, and if you don't properly hydrate while exercising, you risk dehydration.
Dancers who don't hydrate properly risk dehydrating themselves due to excessive sweating and continuous movement!
10. Health Risks in Zumba
Study shows that calf injuries, muscular spasms, and ankle sprains are the most common Zumba injuries treated at clinics and hospitals.
With all the fumbling and jostling, you run the chance of hurting a muscle, straining a limb, or twisting an ankle.
Generally, several lateral, rapid, stop-and-go movements in Zumba can strain the muscles, resulting in physical injuries!
11. Becoming a Zumba Instructor
Zumba is great because it's more than simply a recreation; it's also a way of life that could lead to a rewarding career.
Future coaches should develop their Zumba fitness techniques, create routines, and ensure the class has a distinctive twist.
Zumba instructors make $56,000 on average a year. So it is not surprising that students chose to pursue this professionally!
Many who choose to become instructors want to do it as a fun way to supplement their income. 
To learn more, you can also see our post on Ballet, Tango, and Tap Dance.
Conclusion
If you love dancing but you're looking for a good workout, Zumba is a good choice. It is an activity that can be a great way to get a cardio workout and burn calories while having fun!
One advantage is that even if a class isn't available where you live, you can still stream Zumba classes at home.
Ultimately, it's hard to argue with the success it has had thus far. So, follow your instructor, and with the help of music, you'll find yourself moving and grooving in no time!