Fashion designing is a glamorous career and one of the best careers in the world. They are skilled and imaginative people who are capable of fulfilling people's dreams by creating the best garment masterpiece.
If you're passionate about fashion trends and love making garments, fashion and design might be the right choice! Let's take a closer look before getting started at your fashion industry dream job!
Is Fashion Designing a Good Career?
Fashion designing is a great career because it's highly lucrative and rewarding. To succeed in this field, one must have creativity and an understanding of garments and consumer preferences. Fashion designers are very busy constantly creating and updating designs. However, they get to travel the world and attend invitation-only events.
In addition to this industry's interests and salary potential, I have 11 reasons why fashion designing is an excellent choice for your career!
1. Fashion Designing is Financially Rewarding
Fashion design is a creatively stimulating and financially rewarding career, one of the top paying sectors, with plenty of lucrative career prospects.
Depending on degree, experience and location, a fashion designer's salary ranges $37,480 to $130,970. Top designers earn beyond $120,000. At the same time, junior designers earn up to $54,470.
Another advantage of this job is they can launch their line of apparel or accessories, although initially small but potentially can grow into a significant business.
Simply put, the fashion industry is one of the most affluent businesses you can work in today's world. Therefore seize each chance that comes your way to support it!
2. Passion For Garments as a Fashion Designer
Fashion design can help you turn your passion into a profitable career. It's not just about making beautiful clothes; it's about inspiring others with your creativity and imagination.
To thrive in this industry, one needs to be highly creative and can picture how one wants their garments to turn out.
It would be ideal if you had a sense of style and fashion, which suggests that your overall look should feature pleasing visual abilities like color and pattern.
Overall, it all depends on what you want to do and how passionate you are about it. Keep in mind that fashion designers work in an innovative field where their creations serve as inspiration for others!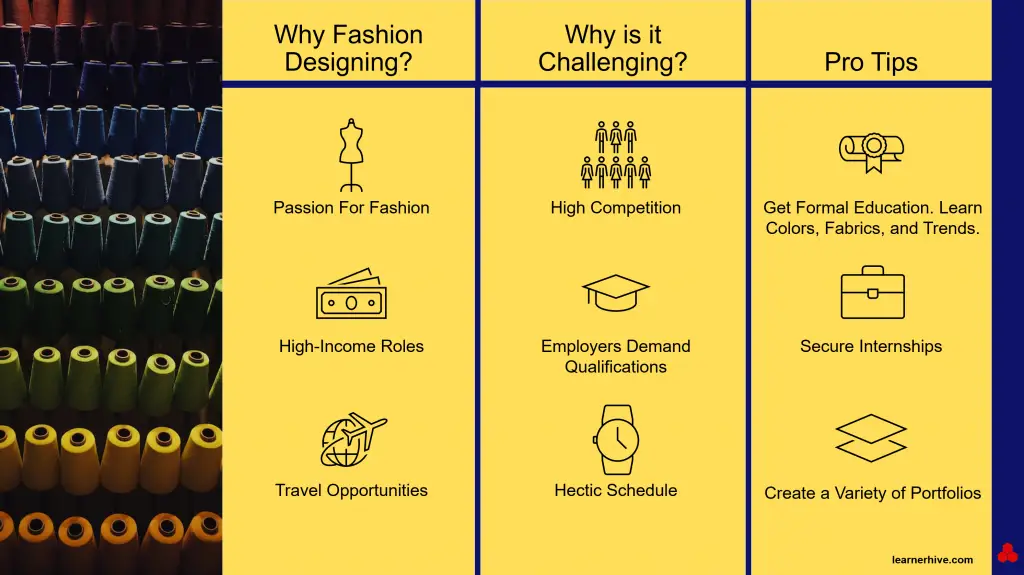 3. Formal Education Requirements to be a Fashion Designer
You must have practical retail experience to prepare for a career in the fashion industry. Therefore, an associate's or bachelor's degree in fashion design and merchandising could be beneficial.
This curriculum equips aspiring designers with the abilities, information, and practical experiences required for garment production.
Additionally, it includes training on creating and delivering garments and accessories promptly to the appropriate audience. Through this, designers ensure a product is well-liked as it needs preparation and advertising.
The fashion industry moves quickly and is intensely competitive. 
4. Fashion Designing Needs Understanding of Fabrics and Textiles
A successful fashion designer requires a solid understanding of choosing and working with various fabrics and textiles.
It would be best to comprehend various textures and how they interact, the potential difficulties of dealing with particular textiles, the longevity of materials, and ethical fabric sourcing.
Designers must be familiar with fabrics such as cotton, chambray, damask, chiffon, jersey, and other textile materials. In addition, working directly with manufacturers and maintaining strong communication channels can help ensure the fabrics get sourced ethically and accurately. 
Generally, a fashion designer should know how fabrics turn into clothing masterpieces!
5. Internships in Fashion Design
To become familiar with the fashion industry, interns work for magazines and fashion houses. They help with various general tasks, such as running errands or engaging in activities like fabric selection.
An intern may conduct trend and fashion research as part of their duties, then choose and offer visuals and concepts they feel the designer may find appealing.
As a result, a successful intern can organize and complete specific designs customized to fashion goals and position oneself for the approaching real world of fashion trends!
6. Career Projection as a Fashion Designer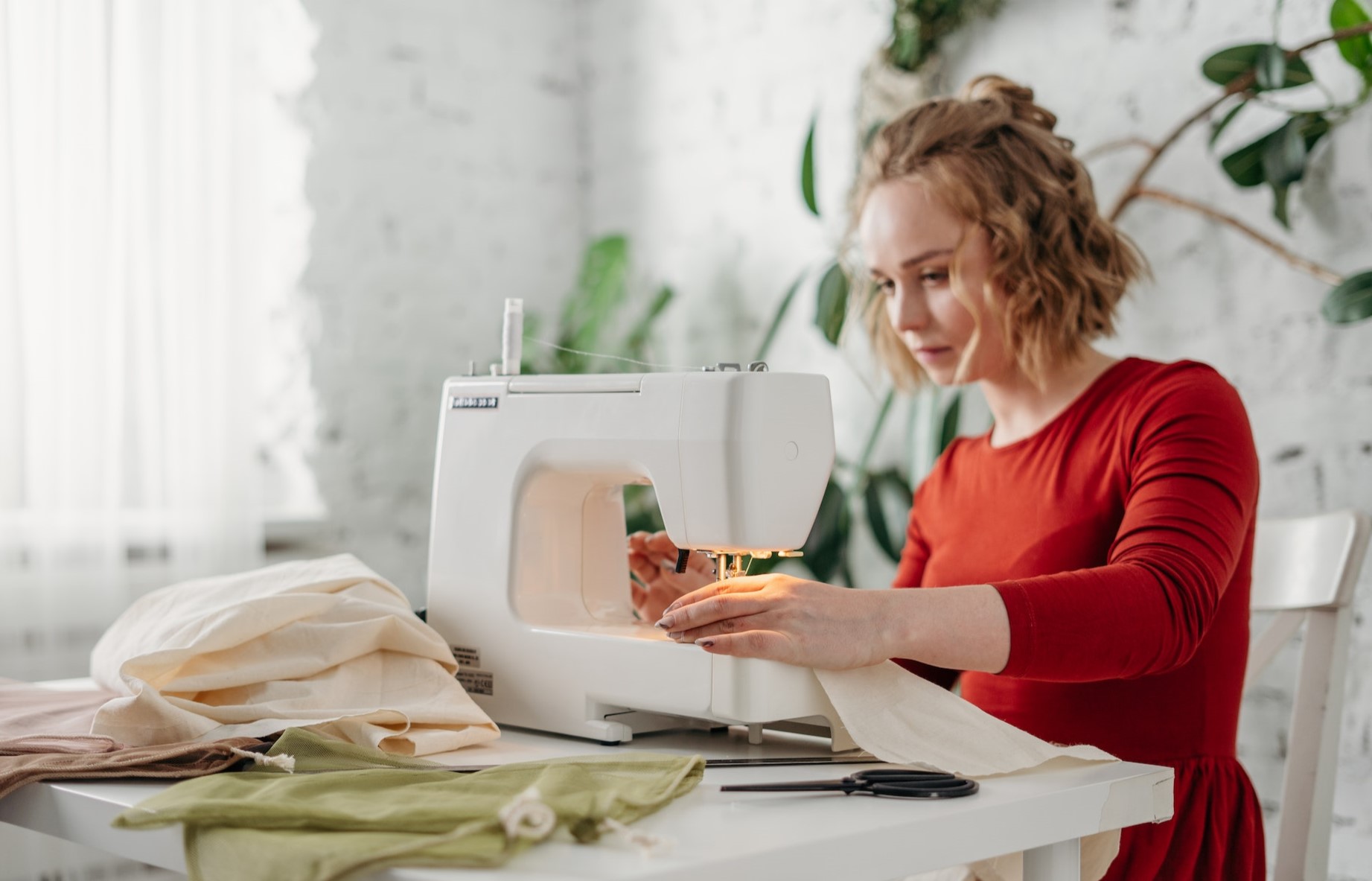 In the current decade, the employment of fashion designers will remain steady. 
Once you pursue this career, with solid industry experience and motivation, you may land a sophisticated job as a fashion director, traveling and directing fashion shows in Paris, London, Milan, or New York.
Therefore, with a degree and relevant experience, fashion designers can decide to work and succeed in one fashion niche, such as apparel, accessories, footwear, or costumes!
7. Life as a Fashion Designer
Most of the time, designers put in long hours throughout the week and on the weekends. A client's schedule significantly impacts a designer's calendar. Therefore, when setting up appointments, they must be adaptable to the client's timetable.
After all, a designer's lifestyle takes a lot of effort and commitment. There may be weeks when you won't get enough rest and sleep, but you must accomplish things consistently! 
However, with education, training, creativity, and experience, designers have an exciting and fulfilling career. Some benefits may include awards, financial gain, social influence, etc. 
8. Fashion Designer's are Extremely Busy 
Most fashion designers work long and erratic hours and don't have enough free time to pursue other interests and pastimes.
For example, it takes hours during fashion galas to choose the models, oversee their appearance, and ensure that the garments fit.
Because of that, they combine travel and work to attend trade and fashion parades, interact with manufacturers, and complete projects with several stakeholders!
9. Criticisms of Fashion Designers
Criticisms can come along in a career like fashion design as a solo endeavor by people who don't like what they do or how they do it.
If a designer's product does not meet the required standards, they may also receive scathing criticism.
Accepting responsibility can be challenging if the error is personal, which can sometimes be upsetting and demoralizing!
10. Setting Up Design Studios
Fashion designers work for design firms, apparel companies, stores, theater or dance companies, and wholesale or manufacturing businesses.
Designers typically work in a design studio where they can concentrate. In this working environment, they spread materials and cut patterns as widely and neatly as possible. 
Therefore, the area needs to have enough good lighting, garment racks, and a scheme to create a more open and comfortable workstation! 
11. Fashion Capitals
As a fashion designer, you can find employment in the world's most renowned fashion hubs, including New York, London, Milan, and Paris.
You may get the opportunity to work with celebrities and major fashion models. The sky is the limit, and dreams can become a reality with a lot of hard work and a little luck. 
Last but not least, you could have the opportunity to be hired by major fashion brands, such as Chanel and Ralph Lauren, to create elegant garments for their collections!
To learn more, you can also see our posts on Acting.
Conclusion
Although the job market for fashion designers is very competitive, it doesn't mean that you can't be successful. The key is to build up your portfolio and network with other professionals in the industry.
Ultimately, if you're willing to spend time learning the ropes and working hard, your designs will likely sell well enough to ensure your business keeps growing and expanding!